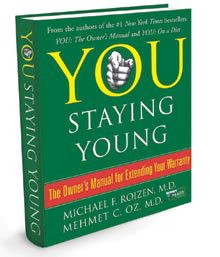 You may not be able to stop aging, but you can certainly slow the process. That's the good news Beaufort Memorial Internist Philip Cusumano, MD, will share on Wednesday, January 18, when he presents "New Findings in the Anti-Aging Debate" at the Quality Inn in Beaufort.
The free seminar will be held from 8 to 9 a.m. A light, continental breakfast will be served. Seating is limited and registration is required.
Based on the best-selling book, "YOU – Staying Young," Dr. Cusumano's seminar will explore major causes of aging, nature's best anti-aging 'medicines,' gene expression and how to control it, and practical changes anyone can adopt to make major gains in health, wellness and longevity.
"There is a widespread belief that our genes have the final say in our ability to become and stay healthy, but it's simply not true," says Dr. Cusumano, a board-certified internist formerly with the Cleveland Clinic, who recently joined Beaufort Memorial Lady's Island Internal Medicine. "Three-quarters of our health issues are caused by our own behaviors and lifestyle choices – not our genes."
The lecture is part of a new "Life, Lived Better" community series hosted by Beaufort Memorial LifeFit Wellness Services. Series lectures focus on overall wellness, prevention, and health improvements for the best quality of life, and will be held throughout the year.
To register for "New Findings in the Anti-Aging Debate" call the Beaufort Memorial Hospital registration line at (843) 522-5585, or toll-free at (888) 522-5585, by Friday, January 13. The Quality Inn at Town Center is located at 2001 Boundary Street in Beaufort.
For information about Beaufort Memorial LifeFit Wellness Services and Dr. Philip Cusumano visit www.bmhsc.org.