Beaufort's own Divine Shoes was recently invited by Lady's Island's own Carolina Baker to joining her at Charleston Fashion Week.

Caroline, creator and head designer of Maude Couture, will be debuting her new Plumage Collection. Divine Shoes will be featuring… divine shoes.
Caroline Baker discovered her love of fashion as a child. "Right away, I was a killer of curtains, slips, tablecloths, and anything else I could fashion into dresses for myself and my dolls," she says. "I even made hats out of magnolia leaves."

Baker attended the Fashion Institute of Technology in New York City and has since returned to the South and worked for Charleston's LulaKate and LulaKate Bridal for the past three years. Her line, Maude Couture, will be presenting the Plumage Collection, emphasizing local, sustainable, couture glamour. Dramatic silhouettes are paired with earth-friendly elements such as fair-trade recycled glass beads, organic fabrics, and feather trims, creating unique, natural luxury.
Divine Shoes, nestled in historic downtown Beaufort, features the latest fashion from international designers in footwear and handbags. It also offers a fine collection of Cole Haan for men. A favorite shopping haunt for "locals," Divine Shoes enjoys frequent repeat visits from savvy part time residents, as they return to their beautiful Lowcountry retreats. Thanks to this phenomenon, the store has developed a clientele across the United States.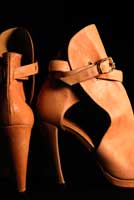 Kathy L. Kilgore, store owner, says, "It's thrilling to have the opportunity to pair Divine shoes with Caroline Baker's original designs. The runway event provides a venue to show off the more dramatic styles we carry in the store to an audience looking for cutting edge fashion."

Susan S. Collins, store manager, has been working closely with Kilgore, choosing the shoe styles that will support the "eco-couture" that dominates Baker's designs.
"Her color and fabric choices are rich and accented with pheasant and peacock feathers. The shoes must not compete – they need to compliment the statement the outfit is making," remarks Collins.
The Third Annual Charleston Fashion Week takes place March 24 – 28. For a complete schedule of events, visit to www.charlestonfashionweek.com