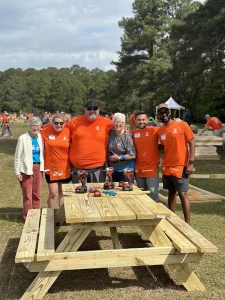 The Home Depot Foundation teamed up with LowCountry Habitat for Humanity and other regional organizations to serve local families through a large community service day at the Coastal Discovery Museum on April 25.
More than 300 volunteers led by Team Depot framed the interior and exterior walls of Habitat's next three homes in Northern Beaufort County, which will allow these deserving families to move into their homes sooner than originally planned.
Within 4 hours, C-suite Executives from Home Depot's major suppliers built 67 walls, two sheds and five picnic tables. The groups were led by LowCountry Habitat volunteers, Sophie Ashley, Jim Burden, Tim Holt, Sally Mayse, and Peter Pearks.