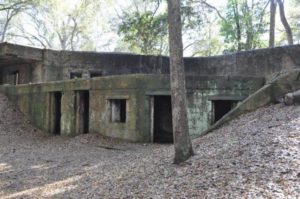 Three preservation grants have been awarded to the Friends of Fort Fremont. The grants will fund a structural engineering study of Batteries Jesup and Fornance located in Beaufort County's Fort Fremont Preserve. The batteries were built between 1898 and 1899 on St. Helena Island, Beaufort County, South Carolina, during the Spanish-American War and are listed on the National Register of Historic Places.
The survey will document the condition of the structures and identify structure, safety, and preservation issues to guide Beaufort County in future work to enhance public safety, preserve the structure, and make improvements for possible enhancements to the visitor experience.
The work is funded by grants from the Coast Defense Study Group, the National Trust for Historic Preservation, and the US Department of the Interior, National Park Service, administered by the SC Department of Archives and History (SCDAH).
The Fort Fremont Preserve is a snapshot in time with historic batteries, a maritime forest, and high bluff coastal views of Port Royal Sound. In 2004, Fort Fremont was purchased by Beaufort County through the Rural and Critical Lands Preservation Program for a 15-acre passive park and preserve. An adjacent 3-acre site was also purchased by Beaufort County in 2010. In 2018, Beaufort County began construction of the Fort Fremont History Center in Memory of Pete Richards, which will be open in Fall 2021.
The Friends of Fort Fremont work with Beaufort County to preserve and promote Fort Fremont's educational, historical, natural, and cultural resources and to interpret Fort Fremont's history for visitors. For more information visit www.fortfremont.org.