After a two-year hiatus due to the pandemic, DragonBoat Beaufort, the local cancer survivor/supporter organization, is pleased to announce that Dragons will once again invade Beaufort on Saturday, June 25, 2022 at Henry C. Chambers Park in downtown Beaufort. Over the last few years, the event has become increasingly popular among locals and out-of-towners alike. The 2019 Dragonboat Race Day drew over 600 paddlers, 30 teams and thousands of spectators to the Beaufort seawall. The event raised $55,000 for the organization which helps support those impacted by cancer who live, work or receive treatment in Beaufort County. This is through the sport of dragonboat racing and outreach efforts which include grants to help with needs that are typically not met through traditional means. All funds raised during Race Day go directly to support DragonBoat Beaufort's Cancer Outreach Mission. This will be the 8th annual event for the non-profit organization.
Anyone can form a dragonboat team to compete at DragonBoat Race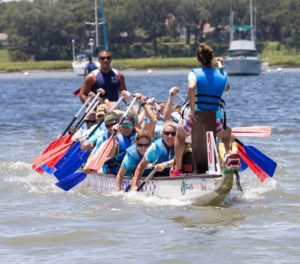 Day 2022. A dragonboat team consists of 20 paddlers, 2 alternates (recommended) and one drummer. All teams will be trained how to safely and successfully paddle a dragonboat with experienced coaches and boat steerers prior to DragonBoat Race Day. In the past, teams have included civic clubs, churches, community neighborhoods, military, local businesses, cancer survivors, schools, and hospitals. There is also a Senior Division limited to paddlers 50 years or older.
On Race Day, teams will paddle in three races (weather permitting) competing for medals. There will be awards for Best Tee Shirt Design, Best Tent Decoration, Best Team Spirit, Best Dressed Drummer, Most Money Raised by a Drummer on Race Day, Fastest Overall Team, Fastest Local Team, Top Fund Raising Team and Top Fund Raising Individual.
For more information, please visit www.dragonboat-raceday.com.