A New Urbanist Approach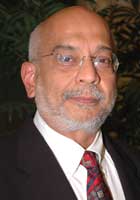 When planners and politicians sit down to talk "community planning," it sometimes ends up an exercise in Sim City simpleness: Build this here, put the roads there, throw in a park or two and hope for the best. What's missing? The people.
As Beaufort's leaders reach to blend the "hardware" of bricks and mortar with the "software" of people, finding ways to connect the two becomes the fulcrum of debate. Architect and urbanist Dhiru Thadani spoke about this frequent disconnect when he visited Beaufort recently.
"We must rethink how we view 'urban living.' We don't have to accept sprawl and suburbs. There are better choices, but we have to find ways to show these ways are better when the population has, for generations, considered a house in the suburbs as the real goal," he said.
Beaufort City Manager Scott Dadson, a member of the Congress for New Urbanism that sponsored Thadani's lecture, put it another way. "The basic building block of urbanism is the neighborhood, which is all about the physical place, the hardware, being designed to allow people, the software, to interact and act, well, neighborly."
With 300 years of learning in what works and what doesn't in city planning, Beaufort's leaders are setting a new course, one that organizes civic infrastructure with private sector development to build "civitas" – the complete city. It's a lofty goal, but already, shades of progress can be seen in Beaufort's downtown Northwest Quadrant. Named one of the nation's "best old-house neighborhoods" by This Old House magazine, the Northwest Quadrant features small businesses and professional services working with the City and residents to rejuvenate the once-blighted community.
Leading this "civitas" work will be the City's Redevelopment Commission, working hand-in-glove with City staff, the Lawrence Group, author of the city's recent Comprehensive Plan, and local firm Metrocology, led by Demetri Baches. Baches is also the Managing Principal of Duany Plater-Zyberk & Company's Asia Pacific operations and a member of the Congress for New Urbanism. Miami based DPZ is internationally recognized as pioneering New Urban design and Smart Growth planning. The Lawrence Group is a nationally-recognized planning, design, development and project delivery firm headquartered in St. Louis with their regional office in Davidson, NC, led by Managing Principal Craig Lewis.
"It's really about taking the Vision plan created by the people of the City of Beaufort and turning it into an action plan, bricks and mortar and streets and redevelopment and reinvestment, that keeps Beaufort the vibrant, appealing city that has steered through 300 years of ups and downs," Dadson said.
Beaufort Mayor Billy Keyserling, Dadson and Baches said the most important project in the next two years will be the completion of the Beaufort Civic Master Plan and the implementation of the Redevelopment Commission's aggressive agenda.
"The Civic Master Plan will establish principles and standards that all public and private development will follow. The strength of this kind of approach is its ability to identify and promote investment and reinvestment opportunities down to the parcel level across the entire City, not just one or two neighborhoods. The Plan will provide certainty for those willing to invest in Beaufort's future," Baches said.
Unlike most planning and policy documents in recent decades, the Civic Master Plan will be visual, giving residents a clear picture of what is intended and a tool from which to market various development/redevelopment opportunities identified in the City.
When complete, the Civic Master Plan will include among other features:
• Physical infrastructure plans illustrating preferred street sections for all streets and required improvements to include sidewalks, street trees, parking and landscaping
• Natural systems plans illustrating preferred stormwater management techniques, open space protection/preservation, water access, watercourse buffers, and other natural areas
• Civic infrastructure plans that identify opportunities to improve, expand, and/or inject new community facilities/amenities into each sector in a manner that creates a coherent and distinctive armature for the entire community.
"I am a believer in what the well-known town planner Victor Dover told me a long time ago standing in the middle of Paris Avenue in Port Royal. He said 20 percent of the people shape 80 percent of the world. Our role is to shape that 20 percent so that they are the positive role models for the other 80 percent. Reinforcement of positive behavior and education are key," said Eric Brown, a local architect and also a member of the Congress for the New Urbanism.
Making sure "the people" are part of the equation may be easier said than done. Most of the people attending Thadani's presentation were local architects, planners and government officials. Part of the problem, another local architect noted, is that planners and architects tend not to think in human scale, but in terms of angles and appearances, of air flow and structural support.
"Even architecture schools, certainly the 'best' ones, often don't teach students to be human-conscious," said Mallory Baches, principal with Duany Plater-Zyberk – Pacific and member of the Congress for New Urbanism. Baches lives in Habersham, the local community that Duany Plater Zyberk, her firm's parent company, master planned.
"We're all gunning to be Howard Roark (from Ayn Rand's The Fountainhead), after all, not enjoying a liberal arts view that sees the interconnectedness of the different elements, the sacred and the civic and the public and the private. It's a serious problem, to be sure.
"Beaufort has massive resources for making better community, both hardware and software," she said. "But having worked for great Town Builders and not-so-great ones, the difference is in the momentum. The difference is in whether a place's Maginot Line holds, or whether the naysayers just simply go around it. The planners and architects here want to offer up all of the reinforcements we have at our disposal. It is great leadership that has put up the opportunity that Beaufort is about to embark on to truly become a model for the rest of the country."
"But there has to be flag-bearing, too, as this moves forward, because people can be dishonest, people will try to shoot down vision, people will find no crime in seeking what is easiest for their own well-being, even at the expense of the entire city-wide effort," Baches said. "Beaufort suffers, I believe, from a comfortableness in mediocrity. We rest on our laurels."
As the process continues, new ways will be used to bring "the people" into the conversation. "If that means we hold charettes and invite people to come, that's great. If it means we take our ideas door to door and sit in kitchens to talk about it, that's good too," said Beaufort Mayor Billy Keyserling.
"We've survived for 300 years. Now we want to thrive – and we can't do that without making sure our software, the people, work seamlessly with our hardware, the buildings and we call Beaufort," Keyserling said. "Will it be hard work? Absolutely. But what an opportunity, to help shape the next century of a 300-year-old city!"
Contributed by the Carolinas Chapter of the Congress for the New Urbanism, this article expands Lowcountry Weekly's conversation about sustainability and the future of Beaufort. Read an exclusive interview with architect/urbanist Dhiru Thadani here.