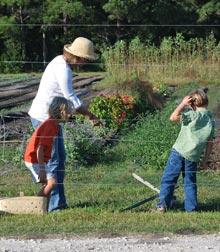 Using local food sources to nourish our children during the school day makes a lot of sense, especially with the agricultural history of Beaufort. What we are finding is that it may not be as easy as it sounds…
There is a lot of excitement brewing in our county, and in the nation, about farm to school programs. Nothing could make more sense. We are facing serious problems of obesity in among school age children in Beaufort County. We are also learning from recent studies that eating habits matter even more than exercise when it comes to obesity (Harvard School of Public Health, June 2011). We have a tremendous growing season in the Lowcountry and a fantastic variety and quantity of fresh fruit and vegetables on our farms.
The family farm has taken a big hit over the last 40 years as our food system transitioned into the industrial machine that it is today. The strong agricultural traditions of our region need support, and our children need healthy food – a perfect partnership. Sounds simple – but it isn't going to be an easy lift, and farm to school in South Carolina will need every ounce of dedication that our elected officials are professing.
The current hurdle for the realization of this ideal union between farms and schools is a food safety certification called Good Agricultural Practices (GAPs). The USDA developed GAPs as a voluntary set of produce safety standards in 1998. The impetus for the creation GAPs was a series of widely-publicized health scares associated with certain produce from large scale farms and/or distributors. Tracking the culprits in these scares proved cumbersome and time consuming for regulators. GAPs were created with just this traceability in mind. In an immense system where huge volumes of crops are packaged and shipped across the country everyday, this is a formidable and worthy task.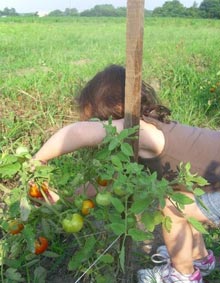 The problem is that GAPs were created for the industrial scale farm and distributor – and food system overall – the very thing that farm to school is trying to circumvent. You might imagine that something designed at that scale would be pretty intimidating to a small family farmer. You would be right. The reason GAPs matter is that every school district in South Carolina has decided to require GAP certification of all sources of food in public schools, including small farms. GAPs are a voluntary set of food safety standards – institutions choose for themselves whether to require this certification. Many are adopting it, but many others – standard bearers in the farm to school movement – are rejecting it as infeasible. In Marin County, California 12,000 students are fed through a farm to school program with small family farms. Marin has shown no interest in GAPs; their own unique system has been incredibly effective for a decade and they do not believe that GAPs will ever be a universal standard. Some supermarket chains are adopting GAP requirements, but are acknowledging the very real barrier for small family farms and phasing it in slowly – allowing farms that have gone through just one section of the process to be suppliers – giving them time and income to navigate through the process.
The South Carolina Department of Agriculture has funding to cover the cost of the GAPs audit – but the overwhelming cost for the farmer comes with the management of the compliance process (in case study after case study, it seems that in order to comply with GAPs, a small farm must hire a manager just for this process) and the infrastructure upgrades often required for the certification (manure management system, new well, additional building structures are all common adjustments.) The record-keeping, materials and infrastructure required for GAPs compliance are unmanageable for small family farms getting by with a labor force of 4 to 5 people. Most just do not have the workforce to manage it.
Our children are counting on us to come up with a solution to this obstacle, and quick. Studies in Beaufort County found that 40% of school age children were obese (22%) or overweight (Beaufort County School District Body Mass Index project, 2007 & 2008). The following may be a pretty common sense extrapolation – but to give it weight, here is what researchers are saying: "Children who are extremely obese may continue to be extremely obese as adults… without major lifestyle changes, these kids face a 10 to 20 years shorter life span and will develop health problems in their 20s that we typically see in 40 to 60-year-olds." (Corrinna Koebnick, research scientist at Kaiser Permanente Southern California Department of Research and Evaluation).
We have enough farms and we have enough schools. We can support one another; we can do this. Our small family farms will not benefit from farm to school in South Carolina until we get serious about overcoming this obstacle. We can look to the examples being set by other school systems with years under their belt of successful farm to school programs. GAPs are a laudable effort to protect consumers from the anonymous food in our supermarkets, but for our small family farms who are an integral part of our community, past, present and future, we need to adopt an alternative.
This is the second article in a series about incorporating local food into the daily lives of Beaufortonians. CNU Carolinas is proud to host Farmer "D" (Daron Joffe), a biodynamic farmer who "creates farms and products for the earth and its people." Please join us on July 20th for this great talk. Time and location TBD. Visit www.farmerd.com for more information on the speaker.
This article was written for Lowcountry Weekly by the Congress for the New Urbanism – Carolinas Chapter. For more information, visit www.cnu.org