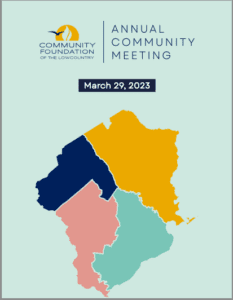 Community Foundation of the Lowcountry would like to wish you and your family a Happy New Year! The New Year is the one time when you simultaneously look back on the year that just passed, while looking forward to the year ahead. We would like to take this time to share some of the Foundation's 2022 accomplishments and highlightthe exciting things already planned for 2023!
Community Foundation of the Lowcountry embraced the theme "All Together Now"in 2022, which focused on our four-county service area of Beaufort, Colleton, Hampton, and Jasper. With that theme in mind, we commissioned the Joseph P. Riley, Jr. Center for Livable Communities at the College of Charleston to research several key indicators across the four-county region. The result was our 2022 Community Indicators Report, released in October and available to read on our website at cf-lowcountry.org. We are incredibly proud of the publication, which provides local data on topics like Health, Housing, Employment & Business, Education, Transportation, Poverty, and the Environment. We have recently partnered with Lowcountry Council of Governments to make the Community Indicators Report an online living document that is regularly updated with new data (summer 2023).
The "All Together Now" theme carries through to our 2022 Annual Report, which will be published in early 2023. We as a community can no longer think of the four-county region as simply a series of individual, disconnected zip codes. Residents from all four counties play an important part in the vitality of our region. The report looks at the exciting ways in which we partner with impassioned individuals who have identified a need in the Lowcountry and have taken steps with the Foundation to tackle it, including the nursing shortage, transportation issues, and educational challenges.
We kick off 2023 with excitement building for our Annual Community Meeting, a free event taking place on March 29, 2023 at the Arts Center of Coastal Carolina. The program will highlight the recent work of the Foundation and focus on the committed partnerships we havedeveloped over the years with local nonprofits and individual donors. WSAV-TV Lowcountry reporter Andrew Davis will MC the Annual Community Meeting, and we are extremely honored to have Jonathan Reckford, CEO of Habitat for Humanity International, as the keynote speaker. The Foundation is also very excited to present the inaugural Joan and Wade Webster Community Impact Award at the Annual Community Meeting. The award will recognize an individual who has recently dedicated his or her time to improve the quality of life in the four-county region.
The Foundation is incredibly fortunate to partner with so many charitable individuals and nonprofits. If you are interested in starting your philanthropic journey in 2023, please contact the Community Foundation of the Lowcountry at 843-681-9100 or visit cf-lowcountry.org to learn more about your giving options.