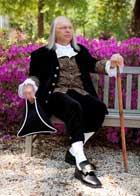 Steve Nousen brings America's most colorful founding father to vivid life at USCB
"I have literally had audiences from (ages) 5 to 95," says Ben Franklin interpreter Steve Nousen. As part of the Osher Lifelong Learning Institute (OLLI) summer program, Nousen will offer a lecture as the beloved Founding Father on July 1 at USCB's Performing Arts Center. "I visited a school one time," Nousen recalls, "and I came into the kindergarten class, where the teacher said 'Look who the visitor is! Does anyone know who this is?' And one kid raised his hand and said, 'A pirate!' Because of the knee pants and everything. It was a hoot."
Audiences at the OLLI lecture are likely to be a bit more familiar with Franklin, and not just from his appearance on the hundred dollar bill. "It's interesting," Nousen says of his lectures' question and answer sessions. "Individuals all bring their own political views and try to justify how they see America today based on what they think the Founding Fathers were about. The American political system is so deep and broad. I try my best to make the lectures non-political. I try to present the facts as I think (Franklin) would have seen them and not inject any political things from today."
Nousen has been interpreting Franklin's character for groups "seriously" for five years, though he began ten years ago after a successful in-character presentation by the Founding Father at a board of directors meeting.
Because Franklin lived through the better part of the 18th century, he saw and took part in many of the formative events for American society, Nousen says. Franklin witnessed the change from "being an outpost of the British Empire to being a free and independent country. I would argue…that no one did more for the cause of independence than he did." He calls Franklin "the most important Founding Father" or at least "he's definitely in the top 2 or 3."
In his talk, Nousen describes himself "as a time-traveler," and focuses a bit on Franklin's relationship to South Carolina, weaving in, for example, "the significant role Franklin had in founding the 1st newspaper in South Carolina, Charleston's South Carolina Gazette in 1732."
While he tells some particulars relating Franklin to our state, his lectures are "more a 'life and times of Ben Franklin.' Audiences enjoy the Q& A session as much as anything. We're really able to have a conversation, a dialogue." He said audiences seem most interested in "probing into what Franklin did that relates to us in the 21st century."
Though he loves it, Nousen's work can be challenging. He has to memorize the hour-long presentation and occasionally deal with audience questions that stump him. He said the age at which he plays Franklin allows him to deftly "forget" facts if need be.
What's more, he says, "Some people want to try to prove their beliefs by the questions they ask, and I have tried to anticipate those questions and address them in the presentation. But mostly people are quite inquisitive…The feedback I have gotten has been extraordinarily positive."
The Habersham resident says he has always been fascinated by the Revolutionary War and Colonial America, and called Franklin "the one guy who ties it all together." Franklin lived to be 84 years old, so Nousen laughs that he can do the impersonation "for awhile…I'm not tall enough to be Thomas Jefferson, and (Franklin) was bald and overweight, so I fit the bill in a couple of ways!"
IF YOU GO:
"Ben Speaks: A 21st Century Conversation with Benjamin Franklin"
July 1
USCB Performing Arts Center
1-3 pm
$10
For reservations and information about Nousen's lecture and others in the OLLI summer series, call 843-208-8247.
Other OLLI presentations at USCB's PAC from 1-3 PM this summer:
July 8: "Young Eleanor Roosevelt" – a lecture from Joan Ruffino
July 15: "Gettysburg" – popular history professor Steve Bacon assumes the roles of four Civil War soldiers
There are some other OLLI lectures at other locations, if you want me to send those to you, too, Margaret – I didn't know if you had much space, though. Just let me know.
Nousen will also appear at the Storybook Shoppe in Habersham on June 29 with a performance geared toward children. Call 843-379-3579 for information and reservations.