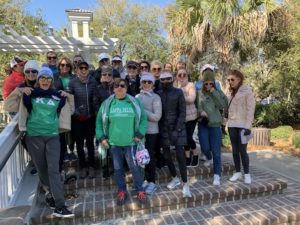 The Low Country Kappa Delta Alumnae Chapter and the Hilton Head Sigma Chi Alumni Chapter are hosting a benefit Beach Walk starting at 10 am on Saturday, March 19 at Coligny Beach  Park on Hilton Head Island.  The rain date is Sunday, March 20.
The second-annual Beach Walk will be followed by an optional, socially-distant picnic at Lowcountry Celebration Park. Bring your own picnic or order a box lunch.
Can't join the walk in person? Walk on your own anywhere by March 19 and send selfies  to lowcountrykds@aol.com or hiltonheadsigs@gmail.com.
A minimum donation of $10 per person is suggested. and all donations will benefit CAPA (Child Abuse Prevention Association) of Beaufort. Pre-paid box lunches will be available for $12 each. They include a grilled chicken wrap or veggie wrap, chips, cookie and bottle of water.
Make checks to Low Country KD AC and send to Jennifer Kaple, 301 Central Avenue, Suite 122, Hilton Head Island, SC 29926. Or donate via Venmo to Jennifer-Kaple-SC1.
The Beach Walk is the latest in a series of fundraisers the Low Country Kappa Deltas have held to benefit CAPA. This is the first year the Sigma Chis have co-sponsored the event. In the past 12 years, the KD Alumnae Chapter has raised thousands of dollars for the local non-profit which serves families in Beaufort County with residential and outreach programs.  CAPA programs also raise awareness about child abuse and its effects on the community.
For more information on the Beach Walk, call (843) 384-4612.
The upcoming local fundraiser is part of National Kappa Delta's Shamrock Project initiative in support of Prevent Child Abuse America. Thousands of KDs in hundreds of communities nationwide host Shamrock events every year to raise money for national and local child abuse prevention efforts. To date, Kappa Deltas have donated more than $26 million to prevent child abuse in our country.