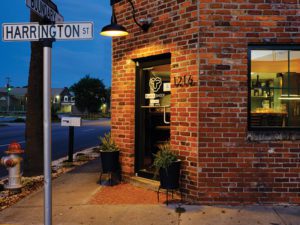 As long-time journalists who often write about tasty destinations, restaurants, and other 'foodie' fodder, we're sometimes hesitant to write about somewhere we love. That's true for special towns (like Beaufort) that we don't want to see overrun with tourists…and restaurants where we always want to be able to get a seat at the table. Like Beaufort's Blacksheep, a neighborhood gem at the corner of Boundary and Harrington where "cook/owner" (his words) Matt Wallace has created something very special in the former Crosta pizza place.
We started hearing about Blacksheep, their unusual business model, and Matt's amazing cooking almost immediately after they opened last May (as in 2020…as in when many restaurants were closing their doors, rather than opening them). Of course, when we learned about the concept and the rave reviews from those we trusted, we had to check it out. And, we keep checking it out as often as possible. Like Thursday, June 24th, for our very first "Dish," which is likely longer than normal because we think Blacksheep deservers it.
Lettuce (see what we did there?) tell you about that particular menu, meal, and the unique dining experience that is Blacksheep, and then we'll spill more beans on the concept and scoring a reservation (with the caveat that they're on vacation July 4-12). Be forewarned: This is going to make you hungry and it's going to make you want to make a reservation ASAP, whether or not you've already experienced Blacksheep.
We had a two-top reserved for six sharp (we'll take whatever slot they have, even it means eating earlier or later than normal). We got there right on time, as requested, and went straight to our table…there's no bar for a pre-dinner cocktail or confab. The meal is why you're there.
While we perused the menu, one of us (Lynn) honored a tradition of ordering a Miller High Life pony bottle. Dunno' why, but it works for him.
After we ordered different glasses of wine from their short and interesting wine, bubbles, and beer list, Krista, the GM (and more) extraordinaire talked us through the menu. And, as always, we listened closely, though she (and we) knew what we were ordering. Just hearing her dish descriptions feels like some sort of foodie phone sex. Anyway…
Here's the menu for that night (it was Menu 25, June 16-26…more about the menu numbers and methodology later):
Zucchini. Squash. Roasted Red Pepper.
(Raw) Scallop. Lime + Ginger + Soy. Cheap Ramen. Herbs.
Walnut. Cinnamon. Tomato. Olive Oil. Eggplant.
Tomatoes. Champagne Vinegar. Basil. Flaked Salt. Shaved Cheese.
Summer Veg. Italian Salsa Verde. Wood Roasted Fish. Olive Oil.
Cheddar. Sour Cream. Potato Gnocchi. Bacon. Scallion.
The bold words in each menu item are the focus of the dish. So, here's how the ordering works. Each diner orders three items from the menu, which has just six. We always order all six different things, period. It's prix fixe at 45 bucks – a bargain.
Our "Dish" is never going to be a restaurant review in the traditional sense, so we're never going to do a wordy rundown (or a run down) of the dishes that night (or ever). Suffice to say that every dish was well-prepared using fresh local ingredients simply, with picture-perfect presentation. BTW…though we love to shoot cell phone food porn for our social media, we generally leave the photography you'll see in "Dish" to professionals, like these hunger-inducing pics, which Blacksheep provided (including our top-notch tomato dish from that night).
Matt's gnocchi has always been a great choice, and this night was no different. The same with the fish, which is typically local and wood roasted (he served fresh golden tile that night). Yum. If gnocchi and fish are on the menu, order them. Oh, and ditto on the crudo, even if you don't think you like raw seafood. Trust us.
To provide even more variety for their many loyal regulars, Matt has started to add an occasional main that's an extra and can only be ordered separately. That night, we were lucky to learn he was featuring wood fired ribeye with delectable locally-foraged chanterelle mushrooms. It was 30 bucks and we loved it, but adding it did lead to us needing to take leftovers home from Blacksheep for the first time. Lucky us.
If Matt adds a main, order it. If mushrooms are on the menu, get them. When not locally foraged, Matt's mushrooms are often from Lowcountry Mushrooms in Spanish Point, with much of Matt's other  produce is from Okatee River Farms, which is just off 170 and well worth a visit.
Matt and Krista bring every dish to the table from his tiny kitchen domain, providing additional details about each one and answering frequent questions.
A few facts about that kitchen: a majority of the dishes and components are prepared in Blacksheep's black-and-white wood-fired pizza oven named Dolly, which Matt inherited from Crosta and was a big selling point for the concept and space.
Incredibly, the only other cooking appliances Matt uses are a two-burner induction stove and a large Instant Pot (yeap). He swears by his Instant Pot for cooking beans, potatoes (for that luscious gnocchi), and more. That's it. Really.
Our dining experience that night was typical…typically outstanding. We didn't order the add-on dessert, or, the excellent French Press coffee, though we've always heard great things.
Matt, who is self-taught, after leaving a hospital administration career at 27, continues to call his modern American fare "unmistakably southern and unshakably global," and we couldn't have said it better, so won't try. He certainly has the chops (and scars) for this unique restaurant venture, having worked at since-closed Farm 255 in Athens (where almost everything on the menu was from their farms), Atlanta's Wood Fired Grill (of Top Chef Kevin Gillespie fame), Hilton Head's Lucky Rooster (cooking alongside Clayton Rollison), and Local Pie (where he met Krista and brought her along for this Blacksheep ride). The name generally comes from Matt's belief that we are all black sheep in some way, and that we should follow what's inside, even if it diverges from the norm (like shifting from hospitals to kitchens).
So, this is how it's worked since they opened last May (with some of it due to COVID) and how it's going to continue to work, post-COVID. Because it worked…really well.
The menu is for two weeks (as noted, ours was #25) and it's on their website for salivation and, for us, salvation, soon 'nuf. Matt completely re-writes the menu every two weeks and you can only make a reservation for the current menu and the next two. Most Blacksheep veterans book tables well in advance without even knowing what's on the menu.
Downtown residents Rob Petitgout and Melissa Venable are two of those veteran Blacksheep visitors. Melissa and Rob, along with at least two other couples, have experienced every single one of Blacksheep's menus, which made us very jealous.
When asked to confirm that they've enjoyed every menu, Melissa says, "Yes we have. In fact, there are several menus we've been back for twice."
Rob adds, "Every menu is unique, different, creative, and damn good." To celebrate those who had supported them from the start by coming to Blacksheep for every menu, Krista and Matt put together a binder with all of them. Of that gesture, Rob says, "It was a gracious and thoughtful gift. One menu that Matt did a 'best of' from the previous menus. That was awesome." Of course, Rob and Melissa make reservations for future menus as soon as they can and recommend others do the same.
You enquire about a reservation by contacting Krista by email, phone, or Instagram (see www.blacksheeponboundary.com). Then, you cross your fingers.
Krista will then get back in touch with the possibilities for getting a seat at the Blacksheep table. Keep in mind that they have a pretty stringent cancellation policy. Good luck. Hope to see you there.