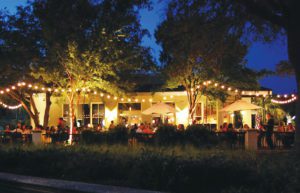 We're well into our second year of "The Lowcountry Dish" and many loyal readers have asked us when we were finally going to write about Saltus River Grill, a restaurant we've loved since Pat Conroy and Cassandra King sent us there when we first started coming to Beaufort (along with several other Beaufort-area restaurants they shared with us that we've also grown to love…and share through our words).
With summer crowds generally leaving town with the humidity, it seemed a perfect time to write about our love affair with Saltus River Grill. Overlooking the Beaufort River and with a timeless award-winning design and lively vibe, this fine dining Beaufort institution is aging well, like a fine red wine.
Renowned local restauranteur Lantz Price opened Saltus River Grill back in 2003. The building has an interesting history that Price pays tribute to with the restaurant's name and décor. Saltus was Charleston-based designer Whitney Eller of Whitney Rietz Designs first commercial project, and the boating-themed design immediately won her a Silver Design Award from the International Interior Design Association.
We've researched some history, which we think – and hope – is mostly true, but keep in mind we're more foodies than we are historians (with apologies to Larry Rowland and other local history buffs).
One of the taller tabby-style buildings in existence, the building was originally constructed circa 1796 by Captain Francis Saltus, a Beaufort boat captain and boat builder. The boats Saltus built there, including gunboats used in the Civil War, were rolled down to the Beaufort River on logs, and the building also served as a ship's store.
At some point, it was sold to the Habersham family, and it became known as the Habersham House for many years. The building was then sold to the Belk-Simpson company in the 1950s and it was Beaufort's Belk store for decades. After contractor and millworker Scott Williams occupied the space, the building sat empty until Price turned it into something special for historic downtown Beaufort, including creating the popular patio at the restaurant's entrance at the back of the building that once housed Captain Saltus-built boats and Belk's clothes and more.
Traces of – and homages to – the building's history remain, including its 20-foot ceilings, a Belk's store ladder at the wine rack in the dining room, varied artwork and photography, and the soaring sails along the ceiling that are synonymous with the décor. Eller, who took the building's interior to new heights, also designed the unique décor for Hearth, Price's wood-fired pizzeria (and more) that now occupies the front of the historic building (we lovingly dished on it back in January). Hearth is currently Price's third downtown restaurant, with the other being Plums just down the street (standby for a dish on Plums next year). Price is a bit of a serial restaurateur, with previous ventures including Common Ground, Habersham's Patois, and Nippy's, a New England-style seafood house behind the Beaufort Inn.
While the history is interesting, it's the food that has us often returning to Saltus, whether we're out
on the patio, at the bar, or sitting at one of several favorite tables in the restaurant proper. We especially love when they start lighting fires out on the now-mature patio come fall.
Of the menu, Price says, "It's really stood the test of time. We massage the menu as the seasons and tastes change." Some original menu items remain, and many are tasty tweaks of the originals.
"People still love seafood and steak," says Price, specifically mentioning still-popular standbys like their varied oysters, blackened dorado, the spicy tuna roll, and any of their char-grilled steaks. Price reports that, from Day One, they've always sold a lot more seafood, including oysters, fish, and sushi, than beef.
"We like leaning into the Lowcountry style, but with a modern and worldly spirit," he says, with nods to the shrimp pirlau, crab bisque, shrimp and grits, and buttermilk fried chicken.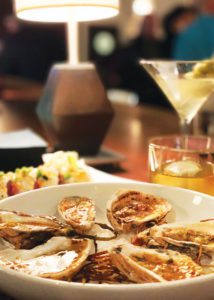 Over the years – and many memorable Saltus meals – we have developed a long list of our own favorites. Our personal list typically starts with oysters from near and maybe far, depending on what's fresh and interesting that evening. They also feature tasty, char-grilled oysters with roasted garlic and parmesan. Yum.
Then, there are the sushi options to contemplate, including sashimi (salmon belly or tuna) served with bright seaweed salad, the aforementioned spicy tuna roll, a unique eel roll, and a fried shrimp roll that also features lump crabmeat.
If we start with oysters or sushi and sashimi, we then might peruse the tantalizing "Small Plates" list, including their signature crab bisque, classic skillet-browned crab cakes, mussels, smoked salmon, barbecue pork belly, and steak tartare (including a local quail egg, natch).
Of course, it wouldn't be a Lowcountry restaurant worth its salt without shrimp on the menu, and
Saltus still delivers the goods. Their creative take on shrimp and grits remains a favorite for us: Sea Island shrimp & stone-ground grits with roasted mushrooms, scallions, smoked bacon, garlic confit and chicken pan jus. Trust us, it's a classic.
Lowcountry Weekly publisher Jeff Evans also recently reported to us during dinner at the newly renovated Black Sheep (make a reservation…now!) that the fried shrimp on the "Small Plates" list is some of the best he's ever tasted. So, though we've evidently had a taste of it in the shrimp roll, we can't wait to order what is evidently a locals fave.
On the fish front, current favorites include the blackened dorado (mahi) with blue crab gratin, pickled
fennel, and leeks with a whole grain mustard beurre blanc, as well as their caramelized sea scallops with red bell pepper farro, asparagus and citrus beurre blanc.
If you are more of a landlubber, Saltus doesn't disappoint with a choice of a Delmonico, filet or a 26-ounce bone-in ribeye served up with a choice of four different sauces—demi-glace, Maître d' Hôtel butter, horseradish cream and house steak sauce. If you are feeling particularly indulgent, splurge with their truffle butter or buttermilk bleu add-ons.
A la carte sides remain a strength at Saltus. Think collards, stone-ground grits (you can even gussy them up with the smoked pimento cheese grits), fresh local veggies of the day, their unique applewood-smoked bacon and cheddar mash, and more. The aforementioned shrimp pirlau is also served a la carte and can definitely serve as a stand-alone entrée after heavy apps.
And, finally, there's the "Fresh Market Catch" option, which is whatever's fresh served with a choice of
their current "sets." We love their Lowcountry Set, which includes smoked pimento cheese grits, sautéed field greens, Sea Island tomato gravy, and sweet corn chow chow, which we also enjoyed as our set during soft shell crab season. There's currently also the popular Carolina Set, with the shrimp pirlau, pickled okra, spicy sausage, Carolina rice and Jezebel sauce. Finally, there's always the Farmers Market set, which features locally-inspired produce.
For a restaurant that's aged like a fine wine, it seems only fitting that Saltus has a great wine list. Though we have our favorites (like Fillaboa Albariño from the Rias Baixas region of Spain – great with oysters, Mirabeau Côtes de Provence French rosé, and The Biker Zinfandel from Paso Robles when we want to go big), we always try to peruse the Saltus wine list with fresh eyes. Because, if you are like us, why limit yourself to ordering white with seafood and red with beef?
For those who occasionally enjoy more than red wine for dessert, Saltus River Grill accommodates with a short dessert list—all made in-house from scratch, accompanied by a longer list of traditional after-dinner beverages, like port and dessert wines, cognac, and even dessert cocktails, like their Shaken Caramel Espressotini. The current and quite creative dessert list includes our favorite, Dark Chocolate Pot de Crème, which is served with whipped cream and sweet potato chips. Yum.
Of the building's tasty new history, which is closing in on 20 years, restaurant group V-P Robin Price, who is also Lantz's proud sister, says, "I knew my brother was building his dream restaurant, but I had no idea what that meant until I walked in the door for the first time. I never imagined at that time in my life that I would have the privilege to work for this fabulous company my baby brother so brilliantly created."
Saltus River Grill
802 Bay St.
Beaufort, SC 29902
(843) 379-3474
Open for dinner seven days a week
5 PM – Until