Photos courtesy of Judy Agiu at Soirée Social Media
Lest you think that all we think about at Seldon Ink HQ is food, we're here to set the record straight. We give equal opportunity to beverages. So, this month, we are shining the spotlight on one of Beaufort's newest beverage purveyors, Rotten Little Bastard Distillery, as proof (see what we did there?!).
Now we know the first thing you are thinking. What's with the name? Well, it seems that Rotten Little Bastard co-owner Brian Fackrell (along with his wife, Brigid) comes by the name honestly. As one of five children raised by a single mother in Las Vegas, Brian was a bit of a troublemaker, and his mother—very lovingly, bless his heart—often called him her 'rotten little bastard.' So, what better way to pay homage to his upbringing (and his mother) than to name their distillery after his wayward ways.
We visited with Brian and Brigid on a rather frigid January day. Which is a bit ironic, what with so many people giving their livers a rest during dry January. But we persevered in the spirit of good journalism (can't help ourselves!).
After a bit of small talk about where they came from (as mentioned, Brian is from Las Vegas and Brigid is from Maryland), how they met (in Las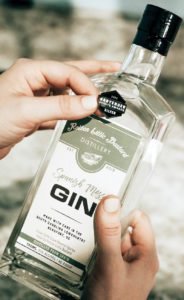 Vegas at a medieval immersive history meeting—they are both into Middle Ages reenactments), and how they found their way to Beaufort (Brigid worked as a sales assistant for a cabinet company who had a plant in Hardeeville and she transferred here), we got down to whiskey business (OK…we'll stop with the puns).
Brian is an electrician, who ultimately bought Premiere Electric of the Lowcountry (now called Premiere Electric of Beaufort). Brigid had left the cabinet industry and was working as a payroll processor for a local accounting firm. But they found themselves often talking about what their next chapter would be. They wanted the chapter to be about something they enjoyed that could be a part of their retirement plan.
Although neither were big drinkers, Brigid enjoyed a glass of wine from time to time, while Brian typically drank Guiness. Occasionally, they dabbled in liquor, especially visiting craft distillers. Always a quick learner, with an ability to pick things up easily, Brian came up with the unlikely idea of opening a distillery. Brigid was all for it, but was a bit concerned about the practicalities. Between them, they knew next to nothing about how to make spirits.
Not to be deterred, Brian enrolled as an online student of Distillery University, and went even further with an advanced education at Louisville, Kentucky-based Moonshine University. With both technical training on how to make spirits, as well as business management classes on how to start and run a distillery, Moonshine U gave Brian all the tools he'd need to get certified. Which he accomplished in 2016.
With that hurdle cleared, the next step was to find a location. Enter the old Kmart in Town Center shopping center on Boundary Street. After pursuing a few other locations without success, the Fackrells started looking at the long-empty space to see how it might work. With garage doors left over from the automotive department, the space started to grow on them. Although the ceilings weren't as high as they would like, they worked with a still company to rework the configuration of the needed machinery and struck a deal on the space.
They also installed a Culligan reverse osmosis water system. Because, according to Brigid, "We love the marsh, but we don't want it in our liquor."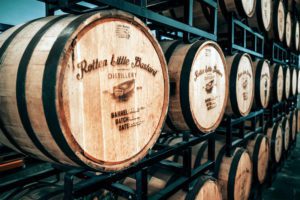 Meanwhile, knowing that he'd need to have some spirits properly aging while they completed the distillery build-out, Brian distilled his first bourbon at a distillery in Virginia. Now, with all the cogs in place, the Fackrells were finally ready. By then, it was June of 2020 when they opened their doors. During a full-on pandemic.
Fortunately, the distillery thrived from the get-go. With tours of the facility held in the open-air bays of the one-time automotive department and the tasting room providing an intimate environment for small groups, Rotten Little Bastard was popular from their first batch and tours.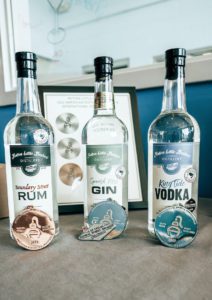 Sourcing their grain locally from Palmetto Malt in St. George, South Carolina, the Fackrells grind it themselves, ferment it for a week in their four fermenters, age the bourbon a minimum of two years, and then bottle it one bottle at a time. As the full-time distiller, Brian admits that they are not as mechanized as the big distillers. But he prefers it that way. "It's an art. The way they do it, it's a process," he reflects.
With a full menu of spirits, Brigid says their gin and bourbon are the most popular choices. Which is a little ironic, in that when they started out, Brian was more partial to rum. With a proper education on how to blend and taste bourbon at Moonshine University, he sat down with a relative who was a trained chef and she taught him how to properly "taste" and appreciate the varied flavors of gin, which was her favorite spirit and something that Brian knew nothing about. Today, that gin is an award-winner.
Tours are very popular at Rotten Little Bastard and are a great way to learn
about distilling and RLB's varied spirits. The hour-long tours include a walk-through the distillery, an explanation of the distilling process by RLB Brand Ambassadors, and a tasting of their six different spirits, all of which have names with a local connection, like Boundary Street Rum, King Tide Vodka, Spanish Moss Gin, Coosa Cut Bourbon, Special 1569 Rum (the date of the founding of St. Elena on what is Parris Island today), and our favorite, Saint Helena 'Shine. "We like to think of the tour as a conversation, not a presentation," says Brian.
Each spirit comes in its own unique reusable bottle (the moonshine comes in a mason jar, natch). If they choose, guests even get to bottle their own at the end of the tour, with whatever is in the bottling tank at the moment, complete with personalized labels that they affix to their bottles.
Business has grown exponentially since RLB opened, with lots of bourbon aficionados, tourists, and locals who want to learn about varied spirits. The Fackrell's also offer paint-and-sip classes and special release events, like the upcoming American Whiskey barrel release event featuring an Irish-style mash on St. Patrick's Day, March 17.
In addition to purchasing spirits on-site, you can also find Rotten Little Bastard's offerings at Bill's Liquors, Herm's Liquor, Saltus River Grill, Old Bull Tavern, and Rosie O'Grady's. They also feature a great merchandise selection with locally made T-shirts (sporting the boat logo that was inspired by a boat that Brian and his sons built in their backyard, and which now hangs as a light fixture in the tasting room), hats, mixers, simple syrups, soaps and candles in flavors of varied spirits, gift packs, whisky glasses, and more.
And, if you are lucky, you'll get a glimpse of their adopted cat, Juniper, named as an homage to their award-winning gin. And, speaking of gin, Brigid said she prefers "Dry Ginuary" to Dry January, and we couldn't agree more!
Rotten Little Bastard Distillery
2139 Boundary St., Unit 102
Beaufort, SC 29902
www.rottenlittlebastarddistillery.com
Tuesday through Thursday 1:00pm–7:00pm
Fridays and Saturdays 11:00am-7:00pm
Last tour starts at 6:00pm
Tour reservations required by calling or emailing rlbdistillery@gmail.com