Celebrity (ce·leb·ri·ty): the state of being well known or celebrated.
Many things come to mind when you hear the word celebrity. Obviously, famous people are celebs, like actors, models, sports personalities and musicians.
Not surprisingly, however, the concept of celebrity has seeped into the world of food as well, with celebrity chefs like Emeril Lagasse, Gordon Ramsey, Bobby Flay, Wolfgang Puck, Anthony Bourdain, and the one who started it all, Julia Child, with top-rated television shows, bestselling books and throngs of loyal fans.
Well, we have some celebrity chefs right here in Beaufort. Although they might be flying a bit under the radar, both Dana and Evangline (Jing) Johnsrude of Magnolia Bakery Café at the picturesque Bellamy Curve on Carteret Street have some serious food – and celebrity – chops. From culinary educations at two of the nation's top cooking schools to working in some of the most elite restaurants in the country, and cooking for some serious A-listers, the Johnsrudes have graced the Lowcountry with their sumptuous baked goods, morning beverages, hearty and creative breakfasts and brunch, and weekday salads, sandwiches and crêpe lunches for 20 years.
Dana hails from Durham and found his calling for cooking at an early age. Some might even say in the womb, in that he was born on his mother's birthday, at which time she received not only Dana, but her first electric frying pan. When Dana was five years old, his Canadian grandmother predicted he'd one day be a chef, as he followed her around the kitchen. After graduating from the New England Culinary Institute in the early 1980s, Dana paid his dues with internships in tasty culinary destinations like New Orleans and Washington, DC, working under gastronomic greats and ultimately working his way to executive chef at the historic and equally elegant City Tavern Club in Georgetown. And, as if that weren't enough, he has personally cooked meals for Robert and Timothy Mondavi, Clint Eastwood, Ruth Bader Ginsburg, and even served Julia Child (like that wouldn't be too intimidating!).
Dana's celebrity brush with Clint Eastwood is particularly charming. He was interning under acclaimed chef and James Beard Award winner, Susan Spicer at Savoire Faire Bistro in the St. Charles Hotel in New Orleans while Eastwood was staying there during the filming of Tightrope. One night, the famished star came into the kitchen after the restaurant had closed for the evening and asked if they had any of the veal dish that he had eaten earlier in the week. With Susan and Dana still in the kitchen, Susan offered to make the dish. According to Dana, "Susan really wanted to make it, but I explained to her that since I was working the sauté station, it was my job. She gave in and let me cook for him." (Disclaimer: We're friends with Susan Spicer, so we just had to share this great story. Her New Orleans restaurants, Bayona, and Rosedale, are highly recommended.)
Meanwhile, Jing grew up in Dumaguete City in Negros, Philippines. After spending several years helping with her family bakery, she moved to Washington, DC, and graduated from L'Academie de Cuisine. Upon graduation, she became the house manager and private chef for a prominent real estate developer, where she planned, organized and cooked weekly family dinners and corporate parties. Not to be one-upped by Dana, occasional guests of those dinner parties included celebrities like CNN's Wolf Blitzer, Maury Povich and James Beard Award-winning cookbook author and journalist, Joan Nathan.
For one of those parties, Jing's boss asked her to cook a recipe out of one of Joan's cookbooks called Chicken Pandora. "After dinner, Joan came into the kitchen, asking me what the main course was," remembered Jing. "I said with a smile, 'Why Joan, that's your Chicken Pandora recipe from your book, with a few changes.' She loved it so much that she asked my boss to have me write down the changes so she could rewrite the recipe for another book."
By the early-2000s, the Johnsrudes were hoping to escape the DC area and were looking for a new business venture that they could operate together. They started searching for opportunities along the East Coast and connected with a restaurant broker in Charleston, who introduced them to Beaufort's Magnolia Bakery Café, which had opened in 1999 and was for sale. The couple thought it was perfect for them and bought it "turnkey" in 2002. They kept the name, concept and menu of the bakery café initially, putting their own fingerprints all over it in the subsequent years. With the goal of fresh healthy meals served with great service, the Johnsrudes are proud of the consistent experience that they offer their loyal customers. To them, their customers are the true celebrities and guest comments like, "good, as always," is a welcome response and, in their minds, the greatest compliment.
With stunning panoramic views of the Beaufort River from their outdoor patio, as well as plentiful and cozy seating inside, Magnolia Bakery Café welcomes diners — celebrity or otherwise — for all-day breakfast and lunch, as well as brunch on the weekends. But let's start with their beverages. Featuring a star-studded Espresso Works list, they've got it all. Locally roasted coffee, espresso, cappuccino and latte (with or without mocha), americano, macchiato, Torani flavored syrups, you get the idea. However, if coffee drinks aren't your jam, they've got juices, teas and perfectly appointed brunch beverages like mimosas and sangrias, not to mention an impressive wine and beer selection.
Naturally, with the word 'bakery' in their name, it's no surprise that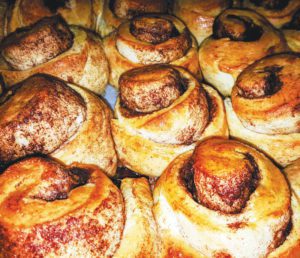 they have drop-dead, mouth-watering baked goods and pastries galore all day long. Signature bread loaves, artisan rolls, strata, cinnamon rolls with cream cheese icing (we dare you to be able to pass these up), croissants, scones, lemon squares, brownies, pies (from pecan to Key Lime and everything in between), cakes (how to decide between Chocolate Suicide or Red Velvet?), and cookies — again, you get the idea.
Although we love our sweets, we tend to more of the savory ilk. And, thankfully, Magnolia Bakery Café excels in both, with nearly everything being made in-house. Breakfast is an all-day affair, with their breakfast sandwiches served on either a French roll or toast, tasty and popular cheese strata (basically a layered bread, egg and cheese casserole with savory toppings changing daily, served with seasonal fruit), crêpes (we tend to lean towards the MexiCali or the Bellamy Curve crab cake crepe), hearty egg platters (fried, basted or scrambled with bacon or sausage, and your choice of bread, grits or potato cakes), omelets, and bowls (oatmeal or granola) from 9am to 3pm.
For lunch there are homemade soups — served with bread (natch!), savory cheese strata, garden fresh salads, robust salads like crab cake or their famous shrimp salad, savory crêpes, and a host of deli and deli salad sandwiches, all served on their signature breads and served with pasta salad, potato chips or fresh fruit. They also feature hot sandwiches, like crab cakes, Reubens and Cubanos, as well as varied chicken breast and black bean burgers. According to Dana, "Of all the dishes here, I'm most proud of our all-lump true Maryland crab cake with lime-caper tartar sauce. But the shrimp salad is a close second." He certainly knows the way to a Beaufortonians heart.
Brunch is also big business at Magnolia Bakery Café. Featuring the greatest hits from their breakfast menu, along with some tasty additions like shrimp and grits and oatmeal molasses French toast, brunch also features s $3 all day Mimosas and sangria.
And, if a little shopping is your cherry on top, you won't be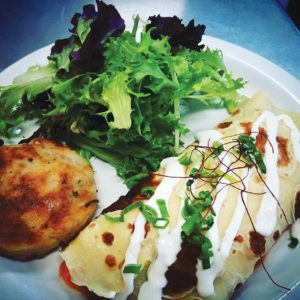 disappointed. Magnolia Bakery Café also features the Garden Gift Gallery right inside the restaurant. Highlighting Jing's passion for interior design, the gallery features whimsical chimes, metal garden art, bird houses and feeders, night lights, hostess napkins, artisan lotions, potions and soaps and so much more scattered throughout the restaurant, where you can literally have your cake and eat it too.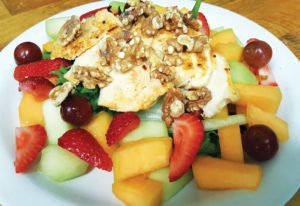 After 20 years, the Johnsrude's move to Beaufort hasn't seemed to tarnish their celebrity stature in any way. According to Jing, they continue to serve visiting celebrities, including Tom Berenger, Jodie Foster, and Dateline anchor Stone Phillips. And, of course, Pat Conroy, who definitely knew a thing or two about good food and celebrity status.
Magnolia Bakery Café
703 Congress St.
Beaufort, SC 29902
(843) 524-1961
www.magnoliacafebeaufort.com
Breakfast and Lunch Wednesday-Friday 9:00a.m.-3:00p.m.
Brunch and Lunch Saturday-Sunday 9:00a.m.-3:00p.m.