There's nothing better than having that one go-to spot in town where you can stop by for lunch or dinner and know that you'll have a good meal, perhaps a creative cocktail or two, and very likely run into someone you know. A true watering hole, where, with a nod to Cheers, everyone knows your name. Which is exactly what Evan Hallinan and his brother and partner, Brent, set out to do when they took over the old Moondoggies space in Port Royal and opened Madison's.
          The brothers grew up in Charleston, when it was a small town filled with all the charms of the Lowcountry. They vacationed during those years in Beaufort and Fripp Island, where their grandmother had a house. Spending many years in the late-1990s and early-2000s working in the restaurant industry— Evan working as a chef for several different restaurants, ultimately working side-by-side with Chef Frank McMahon at the legendary Hank's Seafood and Brent working front of house for several well-known establishments—both were well-schooled in local seafood and Lowcountry cuisine and how to run a restaurant.
         As Charleston started to get over-developed, Evan made his
way to other Carolina towns and several other stints—both in the restaurant industry and then in the medical industry. Then, as often happens to chefs, the culinary world called him back and he started looking for a restaurant of his own.
         Starting his search in Old Town Bluffton, he remembered how much he loved the Beaufort area and how it reminded him of the Charleston of his youth. On a weekend trip in the fall of 2017 with his daughter, Madison (you see where we're going here), to look for shark's teeth at Sands Beach, he drove by the shuttered Moondoggies—with a huge "For Sale" sign out front—and within the hour and one Facebook inquiry, he was inside the restaurant with a real estate agent and his fate was sealed. The restaurant opened the following spring.
         The goal of the Brothers Hallinan was to create an eclectic, cool hang out spot where the locals would feel comfortable. Where they could head over on their golf carts or bicycles and where the Parris Island graduates could celebrate their accomplishment with family and friends. They also wanted a heavy emphasis on seafood, since we live in such a coastal environment. And, five years later, there is no question that they have succeeded.
         On a recent Thursday evening, we called some friends—two from Beaufort and two from Port Royal—to join us at Madison's. We'd just enjoyed another monsoon-like downpour, so it wasn't very crowded (although, it typically is and reservations are highly recommended), and we were greeted warmly and immediately settled into a cozy table in the front dining room.
         The first thing we all noticed was the focus on seafood. It starts with the appetizers. From a classic Charleston-style she-crab soup to chargrilled oysters, crab and artichoke fondue, seared rare tuna and one of their most popular dishes, a deviled egg sampler platter, featuring four different deviled eggs—one plain, one dressed with a mini shrimp cocktail, one topped with a spicy blue crab mixture and sriracha, and one with a crispy fried oyster, seafood shines with their apps selections. However, for those who don't love seafood, they have plenty of Lowcountry options, like fried green tomatoes and pimento cheese.
         Then, there's their raw bar menu. Oysters on the half shell, shrimp cocktail, tuna tartare and tasty seafood towers that might just convert any landlubber.
         Some of the most popular options on the menu revolve around their seafood platters. Creating a masterpiece of two, three or five choices from a menu including shrimp, scallops, oysters, crabcakes and flounder, the platters come either fried or broiled and are served with hand-cut fries (that are to die for!), slaw and hushpuppies. One of us dove in headfirst to the full-on Captain's Platter of all five, natch! Guess who?
         Unique to Madison's is that they are a gluten-free
restaurant. They only fry in a blend of rice and corn flour—without any wheat flour in the house—so they have become somewhat of a haven for the celiac and gluten-free communities. They even offer gluten-free bread and potato gnocchi for substitutions on burgers and pasta dishes.
         Sticking with the serious seafood scene, other entrées run the gamut from traditional Lowcountry shrimp & grits, with some of our finest local shrimp, tasso ham, mushrooms and tomato in a shrimp gravy over smoked cheddar grits; pan-fried blue crab cakes served with red pepper aioli, creamed corn, potato puree and sauteed spinach (which were wolfed down by two members of our group); Atlantic flounder stuffed with blue crab and shrimp and broiled with white wine and topped with beurre blanc, capers, bacon and asparagus; oven roasted local grouper with sauteed spinach, smoked cheddar grits and shellfish cream; sesame crusted tuna steak seared rare with sauteed mushrooms, spinach and soy-ginger vinaigrette, chargrilled Atlantic salmon with fried grits, sauteed spinach and topped with a luscious shrimp, scallops and shellfish cream; seared scallops with a candied pecan, balsamic and lemon vinaigrette (thoroughly enjoyed by one of our group); and seafood pasta overflowing with shrimp, scallops, mussels and clams, along with tomato, artichoke and mushrooms in a shellfish cream sauce.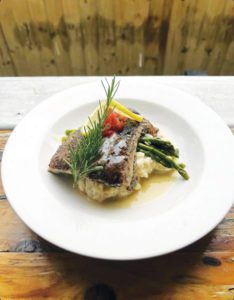 If you prefer to create your own entrée, they offer an a la carte menu from either salmon, mahi, tuna or grouper, which is served with a choice of sauce from five options—shrimp gravy, lemon vinaigrette, shellfish cream, lemon beurre blanc, soy ginger and balsamic butter—and two side dishes from an impressive list of more than a dozen options. Reviews of the crispy fried Brussels sprouts with lemon vinaigrette were over the top across the table, as was the grilled mahi by one local and grilled salmon by another.
         Madison's hasn't forgotten about the landlubbers out there. Non-seafood options abound, ranging from salads to burgers and creative entrées. The burger options include both a veggie and vegan filled with roasted vegetables, a build-your-own option with tons of toppings, the house burger featuring a custom blend of brisket and short rib grilled with pimento cheese, bacon and tomato jam, or the Blue Channel, with the same custom blend of meat topped with caramelized onions, crumbled blue cheese, bacon, sliced tomato and honey-garlic spread.
         Or choose from entrée options like garden and grits (asparagus, mushrooms, artichoke hearts and tomato with roasted red pepper cream sauce over smoked cheddar grits), a 14-ounce hand cut certified Angus ribeye with all the fixins', pasta primavera loaded with seasonal vegetables or grilled Springer Mountain Farms lemon chicken with a lemon-caper sauce.
         Lest the kiddos don't feel left out, there's Maddy's Corner, a creative kid's menu featuring a fried seafood basket, a burger, as well as kid favorites like chicken nuggets, buttered noodles, grilled cheese and PB&J (sans crust, of course).
         And then to top it all off, there are house-made desserts to
satisfy everyone's sweet tooth, from key lime pie and crème brûlèe to banana pie, a flour-less chocolate brownie and the always-popular ice cream sundae. Sadly, our Thursday evening bunch were all stuffed from their tasty meals. Sounds like a great excuse for a repeat visit with friends. This time, however, we'll save room for dessert.
         With the success of Madison's, Evan opened his second restaurant in March of 2020 in the former Sweetgrass space at the Dataw Island Marina. Be on the lookout for our take on Morgan River Grill in the months to come.
Madison's
925 10th Street
Port Royal, SC 29935
(843) 524-3663
Reservations are highly recommended by calling the restaurant.
Lunch: Tuesday-Saturday 11:00a.m.-2:00p.m.
Dinner: Tuesday-Saturday 5:00p.m.-9:00p.m.