I love this time of year! Temperatures are cooling a bit; the days are still long, and sunshine remains abundant. Best of all, we're beginning to venture out of our air-conditioned homes and join the world again. My fall catering season is in full swing and managing supper for Vince and me in between events can be challenging. Over the past couple of weeks, I've been playing with some simple-to-prepare recipes. At the tail-end of a really hot summer, and after eating a bunch of salads, new items on our home menu are most welcome. This weeks' recipes are quick and easy to prepare and cook. I hope you'll give them a try. Stay cool, pumpkin pie spice weather is coming.
Grilled Smoked Sausage with Chimichurri Sauce
Fresh herbs and lime juice add a bright flavor to almost any meat. Try this delicious chimichurri with steak, chicken, pork, or fish.
For the chimichurri sauce:
1 bunch (about 1 cup) fresh Italian parsley leaves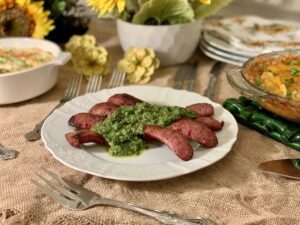 1 bunch (about 1 cup) fresh cilantro leaves
¼ cup olive oil
¼ medium Vidalia onion, roughly chopped
3 garlic cloves
2 tablespoons fresh lime juice
2 tablespoons red wine vinegar
½ teaspoon salt
¼ teaspoon black pepper
¼ teaspoon crushed red pepper flakes
Place all ingredients in a food processor and process until well combined. Refrigerate any leftover sauce.
For the smoked sausage:
1 (16-ounce) beef smoked sausage
Cut the sausage in half and then split it from top to bottom to flay it open without cutting all the way through the meat. Grill over medium high heat until the sausage has grill marks and is heated through. Top cooked sausage with chimichurri sauce and serve. Serves 2 to 3.
Vidalia Onion Pie
This super-simple side dish is one of our summer favorites!
2 tablespoons butter
2½ cups sliced Vidalia onions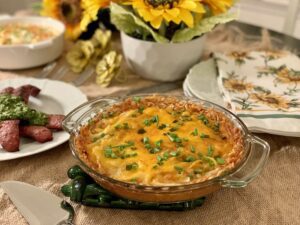 2 cups crushed Ritz crackers
4 tablespoons melted butter
¾ cup milk
2 eggs
½ teaspoon salt
¼ teaspoon black pepper
½ cup shredded cheddar cheese
Paprika
Chopped green onions, to garnish
Preheat oven to 350 degrees. Cook onions in 2 tablespoons butter until tender. Mix cracker crumbs with 4 tablespoons melted butter in a pie dish to form a crust. Add cooked onions to crust. Mix milk with eggs, salt and pepper and pour over onions. Top with cheddar cheese and a sprinkle of paprika. Bake in preheated oven for 40 minutes. Garnish with chopped green onions before serving. Serves 6 to 8.

Whipped Cauliflower Dijon
Mark Twain called cauliflower "cabbage with a college education." Cauliflower is high in vitamin C and is a fair source of iron.
6 cups (1 head) cauliflower florets
1/3 cup heavy cream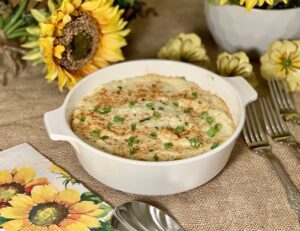 ¼ cup sour cream
3 tablespoons butter
1 tablespoon Dijon mustard
½ teaspoon salt
¼ teaspoon white pepper
¾ cup grated Swiss cheese
Paprika, to garnish
2 tablespoons thinly sliced fresh chives
Boil cauliflower in hot water until tender, about 5 minutes. Drain well, transfer to a food processor with the cream, sour cream, butter, mustard, salt, and pepper. Process until mixture is a smooth, thick puree.  Pulse in ½ cup of the cheese. Transfer mixture to a lightly greased baking dish and top with remaining cheese. Sprinkle with paprika. Bake in a preheated 350 degree oven for 20 to 30 minutes or until heated through and cheese is melted. Sprinkle with chives to garnish. Serves 4 to 6.
The writer owns Catering by Debbi Covington and is the author of three cookbooks, Celebrate Beaufort, Celebrate Everything! and Dining Under the Carolina Moon. For more great recipes and to view her cooking demonstrations, visit and subscribe to Debbi's YouTube channel. Debbi's website address is www.cateringbydebbicovington.com. She may be reached at 843-525-0350 or by email at dbc@cateringbydebbicovington.com.