Who doesn't love a green bean casserole made with canned cream of mushroom soup and canned fried onion rings? We all grew up with some version of cream-drowned green beans at Thanksgiving. We love the old recipes because they remind us of family, happy times and traditions. Growing up, our family had a large Thanksgiving Day meal. Mama cooked for days, we scarfed it all up in less than twenty minutes, and then Mama washed dishes for days. She was a kitchen saint. These days, Vince and I celebrate Thanksgiving with some of our dearest friends. The hosts prepare the turkeys and ham and all I have to do is take a "dish." My contribution to our annual feast is always a pineapple casserole made from one of my Aunt Marjorie's recipes. Easy, delicious and loaded with calories, it's a surefire hit. This week, I'm sharing some of my favorite Thanksgiving side dishes. Most are from Thanksgivings long past and have been handed down from Mama, one of my aunts, or one the dear ladies from First Presbyterian Church who loved to share their family recipes with me when I used to work there. These recipes are all special to me for one reason or another. I hope you'll enjoy them. Happy Thanksgiving!
Cranberries and Apples
3½ cups fresh cranberries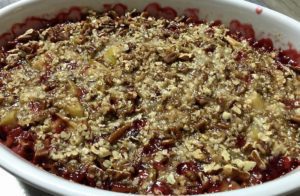 3 large Granny Smith apples
¼ cup oats
1¼ cup light brown sugar
1/3 cup all-purpose flour
½ cup (1 stick) butter, melted
1 cup chopped pecans
Lightly grease a 9×13-inch baking dish.  Spread cranberries in bottom of dish.  Slice apples.  Do not peel.  Top cranberries with apple slices.  In a small bowl, combine oats, brown sugar, and flour.  Sprinkle over fruit.  Toss pecans in melted butter.  Sprinkle evenly over fruit and topping.  Bake in a preheated 350 degree oven for 55 to 60 minutes.
Serves 10 to 12.
Spinach and Artichokes
12 ounces cream cheese, softened
4 (10-ounce) packages frozen chopped spinach, thawed and drained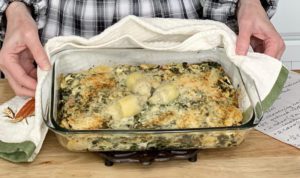 ½ cup butter, melted
3 tablespoons lemon juice
1 teaspoon salt
½ teaspoon pepper
½ teaspoon seasoning salt
½ teaspoon ground nutmeg
2 (8-ounce) cans sliced water chestnuts, drained
2 (14-ounce) cans artichoke hearts, drained and quartered
½ cup grated Parmesan cheese
Preheat oven to 350 degrees. Butter a 3-quart casserole dish.  In bowl with mixer at medium speed, beat cream cheese until smooth.  Reduce speed to low, beat in spinach, butter, lemon juice, salt, pepper, seasoning salt, and nutmeg until thoroughly combined.  Stir in water chestnuts.  Arrange artichokes on bottom of baking dish.  Pour spinach mixture over artichokes.  Cover with foil.  Cut several slits in the foil to vent.  Bake 30 minutes.  Uncover and sprinkle top with Parmesan cheese.  Bake until golden brown about 15 minutes more.  Serves 12.
Pineapple Au Gratin
2 (20-ounce) cans chunk pineapple. drained
6 tablespoons all-purpose flour
1 cup sugar
2 cups grated Cheddar cheese (sharp or medium)
1 stick butter, melted
1 roll butter flavored crackers, crushed
Combine pineapple, flour, sugar, and Cheddar cheese in a medium bowl.  Spread in lightly greased casserole dish.  Combine crushed crackers with melted butter.  Spread evenly over the pineapple-cheese mixture.  Bake uncovered, at 350 degrees, for 25 to 35 minutes. Serves 8-12.
The writer owns Catering by Debbi Covington and is the author of three cookbooks, Celebrate Beaufort, Celebrate Everything! and Dining Under the Carolina Moon. For more great recipes and to view her cooking demonstrations, visit and subscribe to Debbi's YouTube channel. Debbi's website address is www.cateringbydebbicovington.com. She may be reached at 843-525-0350 or by email at dbc@cateringbydebbicovington.com.