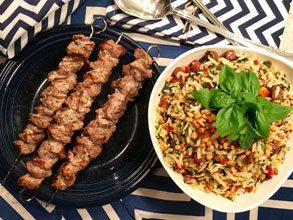 It's rare, and actually quite wonderful when it happens, for Vince and me to be home alone for a few days without a catering event on my calendar. I love to cook for us. When we were dating and I was living in Raleigh, I spent hours planning menus for Vince's weekend visits. The sorry truth is, I have a tough time cooking for two people.
We're lucky to have friends to share with and I'm happy to have participants who are willing to taste my culinary experiments. The recipes this week are just that – experiments. They were created from foods that we already had in our freezer, refrigerator, pantry and garden. I never had to leave the house. It was nice to be home together for the weekend. Sadly, all good things must come to an end. It's time to get back to work.
Grilled Pork Kabobs
¼ cup red wine
3 tablespoons olive oil
2 whole pork tenderloins, cut into 3/4-inch cubes
1½ teaspoons dried oregano
1 teaspoon sea salt
½ teaspoon black pepper
In a bowl, mix yogurt with cucumber and dill weed. Season with salt and pepper. Cover and refrigerate until ready to serve. In a glass bowl, pour wine and olive oil over pork; toss to coat. Sprinkle with oregano, salt and pepper; toss again. Cover and refrigerate for at least 2 hours. Thread on 6 skewers. Grill over medium heat to desired doneness. Serves 6.
Orzo Pasta Salad with Spinach and Sun-Dried Tomatoes
1 (16-ounce) package orzo pasta
1 (10-ounce) package frozen chopped spinach, thawed and squeezed dry
1 (3-ounce) package sun-dried tomatoes
1 (6-ounce) jar sliced kalamata olives, drained
1 tablespoon red wine vinegar
1 tablespoons lemon juice
½ cup extra-virgin olive oil
3 or 4 cloves garlic, minced
2 tablespoons honey
1 teaspoon dried oregano
Salt and pepper, to taste
¼ cup chopped fresh basil and/or mint
½ cup pine nuts, toasted
Cook orzo to al dente, according to package directions. Drain cooked pasta and let cool for 5 minutes. Place orzo in a large bowl. Add spinach, sun-dried tomatoes and olives; toss to combine. Whisk together red wine vinegar, lemon juice, olive oil, garlic, honey and oregano in a small bowl. Pour over pasta mixture and toss to coat. Season with salt and pepper. Cover and chill. Just before serving, stir in fresh herbs and garnish with toasted pine nuts. Serves 8 to 10.
Zucchini Puff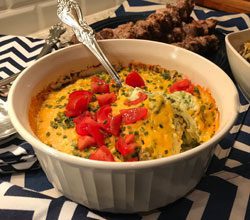 2 large zucchini (about 1½ pounds)
¾ teaspoon salt, divided
½ cup sour cream
½ teaspoon baking powder
2 large eggs
1 heaping teaspoon minced dried onion
1 tablespoon chopped dried chives
1 teaspoon dried Greek seasoning
1 (4-ounce) container crumbled feta cheese
½ cup grated sharp cheddar cheese
Dried chives, to garnish
Chopped fresh tomatoes, to garnish
Grate zucchini on the large holes of a box grater. Transfer the zucchini to a colander over the sink and stir in ½ teaspoon salt. Let stand for 10 minutes. Squeeze out the excess moisture with your hands and transfer zucchini to a mixing bowl. In a small bowl, mix sour cream with baking powder. Add sour cream mixture to the zucchini along with 2 eggs, dried onion, chives, Greek seasoning and feta cheese. Mix well to combine. Pour mixture into a lightly greased (1.6 liter) baking dish. Bake, covered, in a preheated 350 degree oven for 30 minutes. Sprinkle with sharp cheddar cheese and bake, uncovered, for 10 to 15 minutes more or until center is set. Garnish with chives and chopped tomatoes. Serves 4. *Recipe can easily be doubled or tripled, just increase baking time.
Blueberry Croissant Bread Pudding with Blueberry Sauce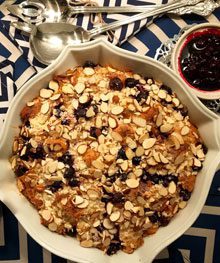 For the sauce:
3 cups blueberries (fresh or frozen)
1/3 cup sugar
1 tablespoon lemon juice
1 teaspoon cornstarch
For the bread pudding:
5 large croissants or 10 small croissants
1 cup blueberries (fresh or frozen)
1 (8-ounce) package cream cheese, softened
4 eggs
2 cups milk
1/3 cup sugar
1 teaspoon vanilla
Dash salt
Dash ground cinnamon
1/3 cup sliced almonds
1 tablespoon coarse sugar, for sprinkling
To make the sauce: Combine blueberries with sugar, lemon juice and cornstarch in a small saucepan. Bring to a boil, then lower heat to a simmer and cook for 10 to 12 minutes or until some of the berries burst and mixture begins to thicken. Set aside until ready to serve. To make the bread pudding: Spray a baking dish with cooking spray. Tear the croissants into medium-sized pieces and place in prepared dish. Sprinkle evenly with blueberries. In a bowl, with an electric mixer, mix cream cheese with eggs, milk, sugar, vanilla, salt and cinnamon. There will be little pieces of cream cheese floating in the mixture. Pour over croissants and blueberries. Cover and refrigerate for at least 60 minutes and up to 8 hours. Preheat oven to 350 degrees. Top bread pudding with sliced almonds and sprinkle evenly with sugar. Bake, uncovered, for 50 to 60 minutes or until a knife inserted in center of pudding comes out clean. Remove from oven and let stand for 10 minutes before serving. Serve with warm blueberry sauce on the side. Serves 8.
The writer owns Catering by Debbi Covington and is the author of three cookbooks, Celebrate Beaufort, Celebrate Everything! and Dining Under the Carolina Moon. Debbi's website address is www.cateringbydebbicovington.com. She may be reached at 525-0350 or by email at dbc@cateringbydebbicovington.com.