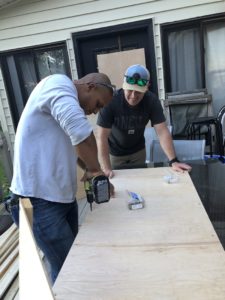 When the boards that local artists would be painting Nutcrackers on for "It's a Nutty Christmas!" Outdoor exhibit in Beaufort had to be constructed, creator/producer Danie Connolly didn't have to search too far. Her mother was a Marine, so she knew exactly where the best of the best were!
Stationed at the Marine Corps on Parris island are Captain Tim Duggins and Drill Instructor Junior Loveless, who are blessed with unique carpentry skills. Connolly had met the men previously when she needed work done around her home in Beaufort. She asked the two Marines for help and soon they were assembling the 6 foot and 4 foot wood panels, complete with strappings and screws.
This was an easy project for these career Marines, knowing the end results would provide funds for Beaufort' Art Association's (BAA) art supplies and education for children. Assembling the platforms for the artists' imagination proved to have a lot at stake!
Captain Duggins is the proud father of three young daughters (and another little girl on the way!) and DI Loveless has two boys and one daughter of his own. This was a mission that needed to be accomplished!
Santa and his elves would have been envious of the two-man construction
crew as they magically completed the task. In no time at all, they had accumulated enough art panels that when painted, would put smiles on Beaufort citizens.
Once they were in the hands of talented artists, the first art panel to return to the BAA was Tiffany Jones' rendition of a bulldog dressed up as a Marine!
To take this Christmas blessing one step further, Finders Keepers store owner Dick Andrzejczyk selected it to put in front of his store for the outdoor exhibit! It turns out, that was another coincidence – Dick was a 20 year career Marine (who is also a gemologist, coin dealer and air traffic controller). And, if you want to really believe in Holiday Magic… he has one of the finest collection of smaller nutcrackers for sale in his store! As you stroll downtown discovering over 50 Nutcrackers, we hope you enjoy this fun exhibit and be sure to salute our proud Marine standing at attention at Finders Keepers, 920 Bay Street Beaufort!