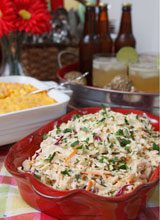 Throughout history, every society has celebrated the end of the harvest. Many have set aside a day of thanks. In 1941, Thanksgiving Day became a national holiday celebrated on the fourth Thursday in November. It'€™s the one day of the year that we Americans can consume an abundance of food without a second thought about calories! The recipes this week are all Thanksgiving side dishes.
Team a couple (or all) of them with a roasted turkey for a modern twist on a traditional Thanksgiving menu. All you'll need to add is a pumpkin pie topped with sweetened whipped cream for a grand finale. Happy Thanksgiving! (Photography by Susan DeLoach)
Lemon Slaw
The bright flavor of fresh lemon pairs perfectly with tangy Southern BBQ!
1 cup mayonnaise
1 teaspoon lemon zest, finely chopped
2 tablespoons fresh lemon juice
2 tablespoons rice wine vinegar
1/2 teaspoon Worcestershire sauce
1 teaspoon smoked paprika
2 tablespoons sugar
1 teaspoon salt
1/2 teaspoon coarsely ground black pepper
2 (16-ounce) packages shredded coleslaw mix
Chopped fresh Italian parsley, to garnish
Combine mayonnaise with lemon zest, lemon juice, vinegar, Worcestershire sauce, paprika, sugar, salt and pepper in a small bowl until blended. Place coleslaw mix in a large bowl; pour dressing over and toss to coat. Cover and chill until ready to serve. Garnish with chopped fresh Italian parsley. Serves 6 to 8.
Pickled Pimento Cheese Canapes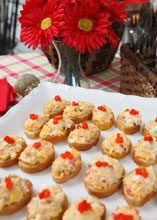 Pickled Pimento Cheese tastes best if prepared a day in advance, allowing time for flavors to blend.
4 cups (16 ounces) shredded extra-sharp Cheddar cheese
3 hard-boiled eggs, peeled and diced finely
4 tablespoons grated onion
1 (4-ounce) jar diced pimentos, drained
1/3 cup sweet pickle relish
1 cup mayonnaise, or enough to blend mixture smoothly
Crostini or water crackers
Mix first six ingredients together in a large bowl. Adjust amount of mayonnaise to make mixture spread easily. Spread cheese filling on crostini or serve with water crackers. Serves 12.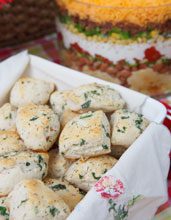 Herbed Parmesan Biscuits
These herb and butter biscuits are addictive!!
1 (16-ounce) can refrigerated buttermilk biscuits
¾ stick butter, melted
1/2 teaspoon dill weed
1 teaspoon dried minced onion
1 tablespoon chopped fresh Italian parsley
2 teaspoons grated Parmesan cheese
Preheat oven to 350 degrees. Separate biscuits and divide into quarters. Add dill weed, onion, parsley, and cheese to melted butter; mix well. Roll each biscuit piece in butter mixture to coat well and place on a lightly greased baking sheet. Bake for 8 to 10 minutes until golden. Serves 4 to 6.
Cornbread Salad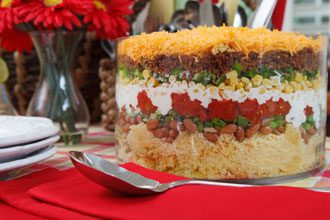 In the South, we eat cornbread with everything. Count on a southerner to invent a salad made with cornbread! The name doesn'€™t give this delicious dish justice! Give it a try — it'€™s much better than you might think!
1 (16-ounce) package cornbread mix 
1 (1-ounce) package ranch dressing mix
1 1/2 cups sour cream
1 1/2 cups mayonnaise
2 (15-ounce) cans pinto beans, rinsed and drained
3 ripe tomatoes, chopped
1 cup chopped green pepper
1 cup chopped green onion
2 (11-ounce) cans whole kernel corn, drained
10 slices bacon, cooked and crumbled
1 cup (4 ounces) shredded Cheddar cheese
Prepare cornbread according to package directions. Cool, crumble, and set aside. Whisk the dressing mix with the sour cream and mayonnaise. Crumble half of the cornbread in the bottom of a large serving dish. Top with half the beans. Layer with half of the tomatoes, green pepper, green onions, corn, bacon, and salad dressing mixture. Repeat the layers. Top with Cheddar cheese. Cover and chill at least 2 hours before serving. Serves 12.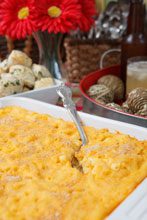 Three Cheese Macaroni
A new look at the ultimate southern comfort food! This dish never goes out of vogue. For extra-special dinners, try using a different pasta shape.
1 (16-ounce) package elbow macaroni
1/4 cup butter
1/4 cup all-purpose flour
1 (12-ounce) can evaporated milk
1/2 cup milk
2 cups (8 ounces) shredded sharp cheddar cheese
1 cup blue cheese crumbles
1/2 cup freshly grated Parmesan cheese
1 tablespoon dried minced onion
1/2 teaspoon Worcestershire sauce
1/4 teaspoon salt
1/4 teaspoon pepper
1/4 teaspoon dry mustard
2 tablespoons butter, melted

1/3 cup dry bread crumbs
Cook macaroni according to package directions. Drain and set aside. Melt 1/4 cup butter in a large heavy saucepan over low heat. Whisk in flour until smooth. Cook 1 minute, whisking constantly. Gradually whisk in milk. Cook over medium heat, whisking constantly, until mixture is thickened and bubbly. Reduce heat. Stir in three cheeses, onion, Worcestershire sauce, salt, pepper, and dry mustard. Stir until cheese melts. Pour mixture over pasta and mix well. Place macaroni and cheese mixture in a lightly greased 2-quart casserole. Melt remaining 2 tablespoons butter. In a small bowl combine melted butter with bread crumbs. Sprinkle bread crumb mixture over macaroni and cheese. Bake, uncovered, at 350 degrees for 30 minutes until casserole is bubbly and bread crumbs are toasted. Serves 6 to 8.
The writer owns Catering by Debbi Covington and is the author of two cookbooks, Gold Medal Winner of the Benjamin Franklin Award, Celebrate Everything! and Dining Under the Carolina Moon. Debbi€™s website address is www.cateringbydebbicovington.com. She may be reached at 525-0350 or by email at dbc@cateringbydebbicovington.com.