In Loving Memory of Dr. Andrea Coulter
(Reprinted from June 2019)
What a treat! I was recently the guest of honor at the Bluestockings Book Club. For their May meeting, members prepared salad and dessert recipes from The Pat Conroy Cookbook and from my cookbook, Celebrate Beaufort.  Nine recipes were featured – and I tasted them all. Everything was delicious! Look how beautiful the presentations were. So impressive! After the luncheon, Bluestockings members gifted me with a contribution to the Friends of the Beaufort Library in my honor. Thank you all for a delightful afternoon! My column this week showcases a few of the recipes that were prepared. If you'd like the rest of the receipts, BUY THE COOKBOOKS! Happy Cooking, Y'all!
Melon Ring with Mint and Honey-Lime Dressing
From The Pat Conroy Cookbook: Recipes and Stories of my Life by Pat Conroy
2 envelopes unflavored gelatin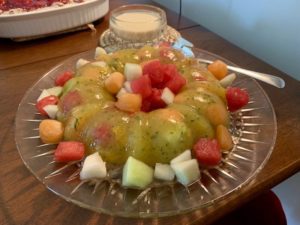 2 cup freshly squeezed orange juice
½ cup sugar
½ cup fresh lemon juice
¼ cup finely chopped mint leaves
1 cup melon balls (preferably a mix of cantaloupe, honeydew, and/or similar kinds), plus additional (optional)
For the dressing:
1 cup yogurt
¼ cup honey
¼ cup fresh lime juice
Place gelatin, 1 cup of the orange juice, and the sugar in a small pan and heat until the gelatin and sugar are dissolved. Do not let the mixture come to a boil. Remove the gelatin mixture from the heat and add the lemon juice, the remaining 1 cup orange juice, and the mint. Put the pan over a bowl of ice water and stir for a few minute until the gelatin begins to thicken. Fold in the melon balls. Pour into a 4-cup ring mold and refrigerate for at least 4 hours. Unmold and fill the center with additional melon balls, if desired. To make the dressing: Mix all the ingredients together and serve with the ring and melon balls. Serves 6 to 8.
Jean Ribault Salad
From Celebrate Beaufort by Debbi Covington
For the vinaigrette:
¼ cup red wine vinegar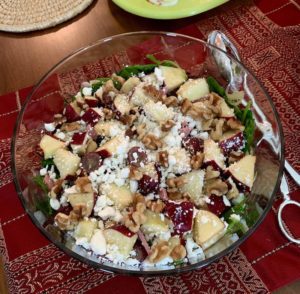 1 tablespoon dijon mustard
1 teaspoon sugar
1/3 cup extra-virgin olive oil
Salt and freshly ground black pepper, to taste
For the salad:
6 cups mixed salad greens
1 small bunch red seedless grapes, halved
1 medium red delicious apple, cut into cubes
1 (4-ounce) package salami, cut into thin strips
1 (8-ounce) container goat cheese crumbles
1/3 cup roughly chopped walnuts, toasted
Whisk the vinegar, mustard, sugar and olive oil together in a small bowl. Season with salt and pepper. Place mixed greens in a large bowl and toss lightly, to taste, with red wine vinaigrette. Top with grape halves, apple cubes, salami and goat cheese. Garnish with toasted walnuts. Serves 4 to 6.
Pickled Shrimp
From The Pat Conroy Cookbook: Recipes and Stories of my Life by Pat Conroy
1 cup thinly sliced yellow onion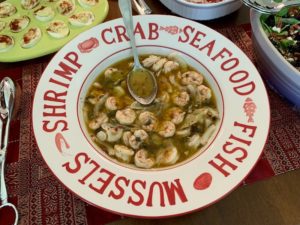 4 bay leaves, crushed
1 (2-ounce) bottle capers, drained and coarsely chopped
¼ cup fresh lemon juice
1 cup cider vinegar
½ cup olive oil
1 teaspoon minced fresh garlic
1 teaspoon coarse or kosher salt
1 teaspoon celery seeds
1 teaspoon red pepper flakes
2 pounds large (21-25 count) shrimp, peeled and deveined
Mix all ingredients except shrimp in a large heatproof glass or ceramic bowl. In a medium stockpot over high heat, bring 4 quarts abundantly salted water to a rolling boil. Add the shrimp and cook until just pink, about 2 minutes. (The shrimp will continue to "cook" in the marinade.) Drain and immediately transfer to the marinade. Bring to room temperature, cover tightly, and marinate overnight in refrigerator. Transfer shrimp and marinade to a glass serving compote or bowl. Serve chilled.
Julia's Strawberry Pretzel Salad
From Celebrate Beaufort by Debbi Covington
1 (6-ounce) package strawberry jello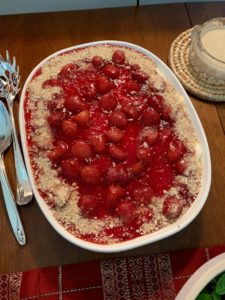 2 cups boiling water
1 (16-ounce) package frozen strawberries
1¾ cups crushed pretzels
¾ cup butter, melted
3 tablespoons sugar
2 (8-ounce) packages cream cheese, softened
1 cup sugar
1 (8-ounce) container frozen whipped topping, thawed
Preheat oven to 350 degrees. Mix jello with boiling water; stir in frozen strawberries. Refrigerate until mixture is syrupy. Mix crushed pretzels with melted butter and 3 tablespoons sugar. Press mixture into a prepared springform pan or 9×13-inch baking dish. Bake in preheated oven for 10 minutes. Let cool. In a medium bowl, beat cream cheese with sugar until smooth. Fold in whipped topping. Spread evenly over cooled crust. Pour strawberry mixture over cream cheese. Refrigerate until completely chilled. Serves 12 to 15.
Crab Louis
From The Pat Conroy Cookbook: Recipes and Stories of my Life by Pat Conroy
½ cup chilli sauce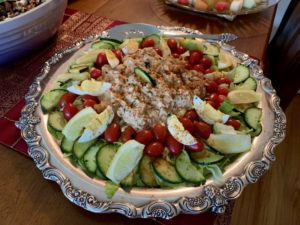 ½ cup mayonnaise
1 garlic clove, minced
½ teaspoon dry mustard
1 tablespoon bottled horseradish
1 tablespoon worcestershire sauce
¼ teaspoon tabasco sauce
½ teaspoon salt
2 hard-boiled eggs, chopped
8 ounces flaked crabmeat, picked over and shells discarded
Combine the first 8 ingredients in a medium bowl and mix well. Add the eggs and crabmeat and gently stir to combine. Refrigerate for 2 to 3 hours before serving. Makes 2 cups.
Arugula Salad with Blackberries, Feta and Pecans
From Celebrate Beaufort by Debbi Covington
For the vinaigrette: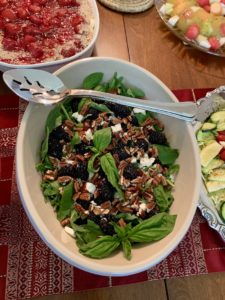 ½  cup balsamic vinegar
¼ cup extra-virgin olive oil
1 tablespoon dijon mustard
Salt and pepper, to taste
For the salad:
8 cups arugula
2 cups blackberries
1 cup grape tomatoes, sliced
½ cup fresh basil leaves
½ cup crumbled feta cheese
1/3 cup chopped toasted pecans
Mix vinaigrette ingredients in a small bowl. Place arugula in a salad bowl; toss with vinaigrette. Top with blackberries, tomatoes, basil, feta and pecans; toss to combine. Serves 6 to 8.
The writer owns Catering by Debbi Covington and is the author of three cookbooks, Celebrate Beaufort, Celebrate Everything! and Dining Under the Carolina Moon. For more great recipes and to view her cooking demonstrations, visit and subscribe to Debbi's YouTube channel. Debbi's website address is www.cateringbydebbicovington.com. She may be reached at 843-525-0350 or by email at dbc@cateringbydebbicovington.com.