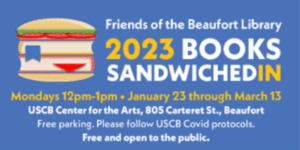 The popular Books Sandwiched In series hosted by The Friends of the Beaufort Library kicks off on Monday, January 23 at 12pm – 1pm at the USCB Center for the Arts.
Join us each Monday for a rich presentation, discussion and Q&A about the book of the week, led by a local expert or thought leader. Light refreshments will be served. Admission and parking are free.
2023 Books Sandwiched In Schedule
January 23 – The Second:  Race and Guns in a Fatally Unequal America by Carol Anderson.  Presented by Jon Coffey
January  30 – The Orchid Tattoo by Carla Damron.  Presented by Carla Damron
February 6 – The Boys in the Boat  by Daniel James Brown.  Presented by Joe DeVito
February 13 – Trouble the Water by Rebecca Dwight Bruff.  Presented by Rebecca Dwight Bruff
February 20 – The Ladder of Years by Anne Tyler.  Presented by Jayne Violette
February 27 – My First Summer in the Sierra by John Muir.  Presented by Greg Schulte
March 6 – You're Going To Be Somebody by Helen Smith.  Presented by Carrie Major
March 13 – The Personal Librarian by Marie Benedict and Victoria Christopher Murray.  Presented by Wanda Mayse

This series is free and open to the public with special thanks to the generosity of our community sponsors.  Light refreshments will be served.
To learn more visit us at www.friendsofthebeaufortlibrary.com/books-sandwiched-in.