An artist of a different sort is coming to town this spring… Cam Chapman is a photographer of the highest order – and his specialty is capturing the beauty of America's East Coast lighthouses.
Hunting Island, by Cam Chapman
Cam travels the highways and back roads of the United States in his vintage motor coach, always searching for new subjects, working his love of lighthouse photography together with the art show circuit where he shares the fruits of his labor with patrons. He will be at the Art Market at Honey Horn April again this year where you will find him in good company with over 90 other fine artists and craftsmen.
After a very successful commercial photography career, Cam decided to heed the call of road and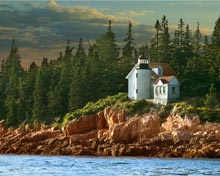 sea, tackling this new venture wholeheartedly. With a lifestyle that is free and spontaneous – but tough – he awakes many days well before dawn to capture that moment of sunrise, sifting through the ever-changing light, shadows and reflections. After hours of research, often chartering boats to find the perfect position, he is always searching for "an enhanced reality – the perfect day in the perfect light" as he puts it. Many a time he has to return again and again, playing a waiting game with the sun, as he says "to capture that light just as it shapes my portrait composition perfectly – when the timeless icons of the sea become art." As one of his many admirers exclaims, "it is as if he paints with light!"
Visitors will recognize many of Cam's portrait subjects – majestic landmarks from history and travelogues, and others, obscure but often as enchanting and beautiful in their own way. His photographs capture the romanticism and emotion of these structures, truly creating "portraits" that lead the viewer in, eager to learn their story. Don't miss this chance to meet Cam Chapman and see his work at the Honey Horn Art Market on Hilton Head Island, Saturday April 26 from 10 am – 5 pm and Sunday April 27 from 11 am – 4 pm. Admission is free with a $6 per car parking donation.
Please feel free to contact Cam at info@camchapman.com or visit his web site camchapman.com.

Hilton Head Island, by Cam Chapman