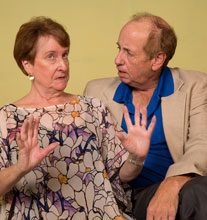 Six seniors will take the stage for May River Theatre's third show of the season
, You Haven't Changed a Bit (And Other Lies), playing
November 6 through 22 at Bluffton's
May River Theatre. The adventures of aging are filtered through three married couples in their sixties who have known each other for more than 30 years in this riotous Baby Boomer musical. They plan to renew their wedding vows in a combined ceremony. The musical romps through the trials and tribulations of retirement and lasting love prior to the ceremony.
            Three veterans and three newcomers to the May River Theatre stage will be featured. Veterans John Lavelle (Mike Dooley); Barbara K. Clark (Audrey Bellini); and Bob Fitzsimmons Steve Fine), will pair up with newcomers, Kay Owen (Liz Dooley), Ken Perkowski (Eddie Bellini) and Nancy Laws (Sarah Fine).
           Performances are Friday and Saturday evenings at 8 pm and Sunday matinees at 3 pm. All tickets are $25 and reservations may be made by calling the box office at 843.815-5581. The box office will open October 26, Monday through Fridays, 10 a.m. to 2 p.m.
The show is produced by the May River Theatre Company and is directed by Christine Grefe. Beth Corry is the musical director.
            This show was written by Jerry Mayer with music and lyrics written by son, Steve. It is presented by special arrangement with Playwright Dramatist Service, New York, NY.
            This light-hearted, fun-filled musical is a must-see for married couples of any age, however, it is not recommended for children under 18 years of age.