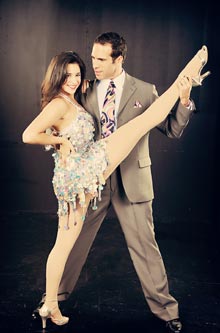 The Arts Center transforms into "Smokey Joe's Café"
Get ready to rock and dance this summer when the Arts Center presents "Smokey Joe's Café," Broadway's hit party musical featuring the chart-toppin', doo-woppin' tunes of Jerry Leiber and Mike Stoller.
At the Arts Center through Aug. 6, tickets are $45 for adults and $31 for kids. Group rates are also available.
One of the most prolific songwriting teams of the '50s and '60s, the dynamic duo of Leiber and Stoller cranked out one gold record after another, among them "Hound Dog," "On Broadway," "Stand by Me," "Yakety Yak" and "Love Potion No. 9."
"People may not know (Leiber and Stoller's) names, but they know their songs," said director Russell Garrett. "Their music shows up in movies and commercials all the time. It's become part of the American consciousness."
Just this spring, "American Idol" dedicated its Top 4 episode to the Leiber and Stoller songbook. All four finalists performed selections from "Smokey Joe's Café" and its Grammy-winning cast album.
"Leiber and Stoller define the era of American rock-n-roll," said John Bell, who has served as musical director on four Arts Center shows. "It's the best-written material of that genre."
Nominated for five Tony Awards, the musical opened on Broadway in 1995 and ran for 2,036 performances. Kent Zimmerman, one of nine actors starring in the Arts Center production, started his career in New York handing out flyers in Times Square for "Smokey Joe's Café."
"I saw the show 12 times," said Zimmerman, who went on to perform in two Broadway musicals and the national tours of "Showboat," "Footloose," "Guys and Dolls" and "The Producers." "It's non-stop, start-to-finish, rock-n-roll music."
Zimmerman will sing one of the best-known songs in the show — "Jailhouse Rock," made famous by Elvis Presley.
Another Elvis classic — "Hound Dog" — will be performed by LaDonna Burns, who is starring in her second Arts Center musical.
"I won't be doing any Elvis moves," Burns said. "It will be more like the original version recorded by Big Mama Thornton."
The New York actress wasn't alive when Leiber and Stoller songs first hit the airwaves, but she's done several shows from the era, including the Arts Center's 2006 production of "Beehive."
"I always thought I should have been born in that time," said Burns, whose theater credits include national tours of "Rent" and "Seussical the Musical." "Those were the days when people really sang. The groups were elegant, and they had great dance moves."
Garrett, who directed "Smokey Joe's" at Sierra Repertory Theatre in California, will choreograph the production.
"There's going to be lots of choreography, but it's a contemporary show, not a period piece," Garrett said. "You're not going to see the cast break out into the Twist."
The show will open in an urban neighborhood setting with brownstone buildings, fire escapes and small shops, and then move to another city location. When the curtain rises after intermission, the stage will be transformed into Smokey Joe's Café, an intimate nightclub with small tables, chairs and a live band.
Among the well-known tunes to be performed in the second act are "Charlie Brown," "I'm a Woman," "Spanish Harlem" and the title song.
"I grew up listening to this music," said Steven Goldsmith, who performed in the Broadway company of "Jersey Boys" staged in Toronto and Chicago. "They're timeless songs. The lyrics are so catchy, they stick with you."
"Smokey Joe's Café" will close the Arts Center's 2010-11 Theater Series. Subscriptions to the 2011-12 season are now on sale and can be purchased at the box office or by calling or 842-ARTS (2787).