An interview with Actor Michael Weaver, starring in "The Misanthrope" at ARTworks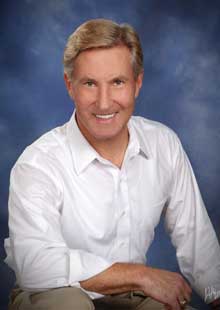 Michael Weaver auditioned for this long respected and influential play from the 1600s because "it's one of those things you don't pass up if you're serious about acting." Director JW Rone gave Weaver the lead role of Alceste in the November 8-18 production, in the black box theater at ARTworks in Beaufort.
The Misanthrope is Michael Weaver's first production with ARTworks and the producers Palmetto Theater Xperiment, but not his first lead in a classic comedy. Michael also has played Earnest in The Importance of Being Earnest, Charles in Blithe Spirit, and Cyrano in Cyrano de Bergerac. Michael has performed in many musicals, including Jekyll & Hyde, Pippin, Sugar, The Best Little Whorehouse In Texas and Thoroughly Modern Millie.  In December Michael will appear in Cole Porter's Anything Goes at the Arts Center of Coastal Carolina, his third production there, after Camelot and Hairspray.
What do you like most about your role?
This is the role that Moliere wrote for himself. It is a continuing pleasure to get inside the head of one of history's most respected playwrights, and an honor.
What's the most interesting aspect about this play?
On first reading, Alceste seems to be angry and preachy, even loud. But the more you study him the more dimensions you see. Beginning with his real affection for his best friend, Philinte. And extending then to how truly he is hurt in his relationship with Celimene. Every trip through the play I see more real emotion and vulnerability in Alceste, despite his blustery front.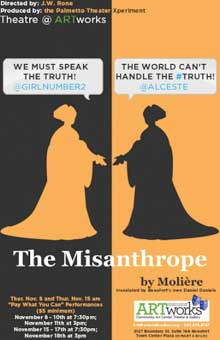 Who do you admire in this play? What's your favorite line?
I admire the misanthrope's best friend, Philinte. He's not the most assertive person on stage – Alceste and Celimene use up a lot of oxygen – but Philinte often says the smartest, truest things that get said in The Misanthrope. For example, "Like you, I see a hundred problems every day that could be solved much better in a different way; but even though I see such things on every hand, I don't fly into a rage – like you – about them. And I take men as they come, no matter how bizarre, and train my mind to look at people as they are."
What has been the biggest challenge in rehearsing?
The sheer amount of dialog one must learn as Alceste. I played another famous talker –Cyrano de Bergerac – earlier this year. Alceste makes Cyrano look like a man of few words.
Tell us more about the language of the play.
Thanks to our new translation, by Daniel Hoyt Daniels [a resident of Beaufort] the language itself is by far the most up-to-the-minute that I have seen in a classic play. Yet Daniels brought this translation back to the original rhythm. It is called Alexandrian couplets, and it involves six beats to every line of verse. When French is translated to English, it almost always goes to five beats per line. That's the same as the "iambic pentameter" in which Shakespeare wrote, and English fits that well.
The six-beat line in Daniels' translation gives more room for something modern audiences don't get to hear very much. Audiences in Moliere's (and Shakespeare's) days loved word-play. They enjoyed wit, an ingenious way of putting something. And they expected to hear a thought stated two or three different ways before the speaker moves on. That is not the fashion now, in the era of "LOL" and "BFF." It is worth visiting the day when people loved the words they used – you can always come back!
The Misanthrope is a "comedy of manners." What does that mean?
Comedy of manners has to do with what the audience already knew about the relative social status of each of the characters. Some of what made Moliere's audiences laugh and enjoy his plays so much was, "I can't believe a guy like that would say this to a guy like THAT."  Movement was one of the ways the audience understood who ranked where on the social scale.
Men and women both took up as much space as they could in the court of Louis XIV. For women, their dresses did a good job of that, with skirts that barely fit through doors. For men, they wore protruding swords – rapiers usually – and strode with tall walking sticks. They pointed their toes out – so the large bows on their slippers would clear each other. (And probably because that's the way the King walked.) Women took ballet as children, just to acquire the grace that comes with it. And men stood to show off their legs, because that's what Louis XIV did.
Since we're playing The Misanthrope in modern dress, we're referring to this style of movement, but modifying it. For example, I moved my Blackberry to my left side so it will cross-draw the way a rapier drew in the 1600's, and so I can rest my left hand on it the way they did on the hilt of their swords.
It was a new learning for me under JW Rone's direction to see how Moliere used a few stock characters from the more slapstick traditions of Commedia dell'Arte. They are goofy, broad characters that help the show move along and provide a different kind of comedy. When I learned about them I saw immediately that this is what playwright Neil Simon did in our time, with his memorable bell-hops, receptionists and so forth.
I knew that a chance to play in The Misanthrope is something to jump for, but I had no idea how much I would be learning. It's a fascinating trip. We owe a lot to JW for daring to undertake it, and to Dan Daniels for working so meticulously to give us a translation that is modern and authentic at the same time.
November 8-18, "The Misanthrope" is produced by Palmetto Theater Xperiment and directed by J.W. Rone, from an original translation by Beaufortonian Daniel H. Daniels from the 1600s French verse. November 8-10 at 7:30pm; Sunday, November 11 at 3pm; November 15-17 at 7:30pm; Sunday, November 18 at 3pm. For tickets, 843-379-2787 and www.artworksinbeaufort.org: $17 per person, $12 for students (13+), $7 for children (12 and under) and $12 for groups of 10 or more. Thursdays are Pay What You Can ($5 minimum.)