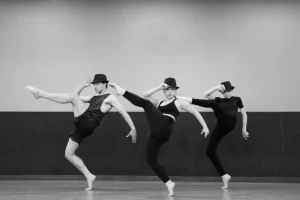 Bluffton Academy for the Arts (BAA) announces the creation of its NEW Musical Theater program, slated to start fall of the 2023-2024 school year. BAA is now taking applications for next school year's Musical Theater and Dance programs. 
BAA is a private, secondary school created specifically with performing arts students and their families in mind. BAA, located at 123 Persimmon St., Bluffton, provides a safe environment for students seeking to combine high-level performing arts training with the time-flexible, online learning program of their choice. The academy offers dance, voice and musical theater training from local and visiting faculty. 
BAA Director and Bluffton School of Dance lead ballet instructor Meg Eberly said the school was created to "provide a safe, supportive education experience that grants performing arts students the flexibility to train more intensely while also completing academic requirements." 
Students attend BAA from 9 a.m. to 3:30 p.m. Monday-Thursday with the assistance of an onsite director and academic support staff. BAA's format allows students to take their arts training to the next level, while still mastering school assignments and receiving social interaction with like-minded students and staff. Class sizes are kept small, so that every student receives the one-on-one attention they need to reach their goals. BAA's school calendar typically mirrors the Beaufort County School District calendar, which makes scheduling a little easier for families with multiple children. 
The new Musical Theater program is for rising 8th-12th graders in search of a school that combines an academic focus with high-level voice, drama and musical theater-style dance training. 
"There are so many talented young artists in our community training in musical theater, and I am thrilled to be able to offer them a school that provides them the resources and time needed to pursue their artistic passion," Eberly said.
The Musical Theater program will offer music theory, basic keyboarding, private voice lessons as well as ensemble voice training taught by esteemed vocal teacher Sonya Jacobs. Jacobs is a vocalist who has performed solo and in ensembles around the Southeast, including the Atlanta Master Chorale. She is also a Speech-Language Pathologist, which enhances her understanding of the voice as a human instrument. 
"Consistent vocal training, and regular daily rehearsal is paramount to developing as a strong vocal athlete, which is required for today's musical theater performers," Jacobs said. 
Musical Theater students will also have access to rotating classes such as musical-theater dance training, drama/acting skills classes and various opportunities to discover new musical theater shows and songs. They will also join BAA's dancers for an end-of-year production to showcase their performing arts skills. 
"I'm so excited that the BAA environment can provide the time, space and opportunity to build vocal artists, with solo and theater ensemble experience, music theory, piano, and dance … all foundational skills for success in musical theater," Jacobs said. 
BAA will continue its prestigious dance program, which offers training in a variety of disciplines such as ballet, jazz, modern and more. These dancers also participate in rotating classes including yoga, Pilates & dance history. The academy has a few spots open for dancers going into 8th-12th grade. 
BAA's flexible structure allows students to maximize their arts training while still being a part of a safe and encouraging school community, creating bonds with other students passionate about the arts. 
For more information about Bluffton Academy for the Arts and how to register for the 2023-2024 school year, please visit www.blufftonacademyforthearts.com or email Director Meg Eberly at info@blufftonacademyforthearts.com. Bluffton Academy for the Arts is located inside the Bluffton School of Dance building, at 123 Persimmon St., Bluffton.