The celebrated screwball farce comes to the Arts Center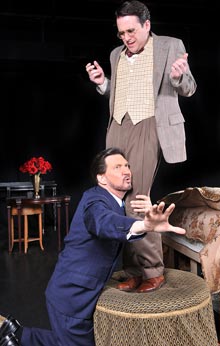 Imagine you're the impresario of a struggling opera company and you manage to land a guest appearance by the great Italian tenor, "Il Stupendo." Only hours before curtain time, you find your star passed out in his hotel suite.
What could be a disaster is turned into a hilarious farce in the hands of playwright Ken Ludwig. Lend Me a Tenor, his Tony Award-winning comedy, has been hailed by Time Out New York as "the most howlingly funny laugh machine to hit Broadway in years!"
The Arts Center of Coastal Carolina will present the screwball farce Feb. 7-26 in the Elizabeth Wallace Theatre.
Set in 1934, the curtain rises to find Saunders, the general manager of the Cleveland Grand Opera Company nervously awaiting the arrival of Tito Merelli, the world-famous opera star playing the lead in a gala performance of Verdi's Otello.
Well-known as a lover of wine, women and song, Merelli arrives at his posh hotel suite with his hot-tempered wife Maria in tow. Suspicious of his adoring female fans, she mistakes an autograph seeker hiding in his closet for a secret lover and huffs off in a fury.
To calm the singer's nerves, Saunders' assistant Max slips him a tranquilizer, not realizing Merelli has already taken a dose on his own. When the impresario discovers the opera star unconscious in his room, he panics.
"It's the biggest night for the opera company and it looks like it might go awry," said Warren Kelley who is playing Saunders in the Arts Center production. "He quickly comes up with a plan to save the show."
Saunders enlists Max, an aspiring singer himself, to impersonate the tenor. Wearing Othello's makeup and a wig, he passes off for Merelli—until the real opera star shows up in the identical costume.
"It's a perfectly crafted comedy," said Scott Evans, cast as Max. "You have a bunch of people behaving ridiculously in ridiculous situations."
Evans is one of several actors in the cast who have performed in other Arts Center productions. His credits include Leo Blum in The Producers as well as My Fair Lady and Great Expectations. Also returning are Kelley, who starred in The Full Monty and Boeing, Boeing, Denise Cormier, featured in Cabaret and Steel Magnolias, and Lauren Pastorek, who played the tall blond stewardess in Boeing, Boeing.
Performances of Lend Me a Tenor are at 8 p.m. Tuesday through Saturday with Sunday shows at 2 p.m. and additional 7 p.m. performances on Feb. 19 and 26. Tickets are $44 ($39 for the Feb. 7-9 previews), $31 for children 15 and younger ($27 for the previews), and may be purchased at the box office, online at www.artshhi.com or by phone with a credit card by calling 842-ARTS (2787).