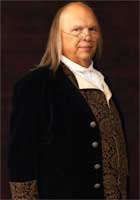 "If you could spend one evening with any American living or dead, wouldn't Ben Franklin be fairly close to the top of your list?" asked popular local Ben Franklin interpreter Steve Nousen.
Nousen's new two-act, one-man show, "Ben Speaks" receives its world premier in Beaufort February 18-20 and will give audiences a chance to do just that: spend an evening with the brilliant and witty Founding Father, author, statesman, politician, inventor, and international celebrity.
Nousen's decade of lecturing as Franklin, especially in Osher Lifelong Learning Institute (OLLI) classes, has been wildly successful, and audience responses inspired him to create this original play. "I had my vision about what was important about Franklin's life, but audiences kept asking questions that opened new avenues into his life.  For example, I was forced to do further research about his son William, who was born out of wedlock and went on to oppose Franklin during the Revolution.  People wanted to know about how William fit into the relationship Franklin had with his wife and whether father and son could reconcile their differences after the war.
"I have learned to go much deeper into the personal life of this Founder," Nousen continued, "and let the public man, science, politics, printing, take more of a back seat.  I have also found that the wit and wisdom of Franklin is timeless and the advice he gave to the common people in Poor Richard's Almanack has endured over two and a half centuries.  He still has much to teach us."
A lifelong student of American History, the Habersham resident says he has always been fascinated by the latter half of the 18th Century. "I have read, traveled and interviewed people over countless hours in doing my research" into Franklin, he said.
Franklin lived 84 years, and was writing an autobiography, but was unable to complete it before his death. Nousen called Franklin's life amazing. "Born the 15th of 17 children to an immigrant father who made candles and soap, he spent less than two years in formal education and ran away from home when he was 17. He had learned a trade (printing) and by using the virtues of industry and frugality he was able to build a business and became wealthy enough to retire at the age of 42 and devote the rest of his life to scientific experiments and public service.  'Ben Speaks' is my attempt to bring this amazing life into perspective in ways Americans of all ages can appreciate."
Every performance of "Ben Speaks" will be different, "because the audience members are part of the play," Nousen noted. They will be able to converse with and ask questions of Franklin in the second act.
Scheduled to precede President's Day, the play might also be a good Valentine's Day follow-up, Nousen suggested. He said of the renowned ladies' man: "I believe that women were drawn to him because he gave them what they craved more than anything else: a man who would listen — really listen – to them.  All men have much to learn from Franklin on that score."
If You Go:
February 18 & 19 shows are at 8 pm and February 20 matinee is at 3 pm.
Tickets are $15 for adults, $10 for students age 13 and up, $5 for students 12 and under, and $10 each for groups of ten or more.
Tickets can be purchased online at http://www.beaufortcountyarts.com/secondseason.htm#ben, or by calling 843.379.2787.
ARTWorks is located at 2127 Boundary Street, in Beaufort Town Center (next to OMNI Fitness Center and Bi-Lo.