South Carolina Repertory Company concludes its 16th season with a special treat for the Lowcountry, the musical The Last Five Years by Tony Award winning composer Jason Robert Brown.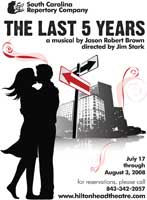 The Last Five Years opened at SCRC's theatre on Beach City Rd on July 17th, and will run through August 3rd. Performances are Tuesday – Saturday at 8 pm, with matinees at 2 pm on Saturday, August 2nd and Sundays, July 27th and August 3rd. The South Carolina Repertory Company is located at 1360 Beach City Rd, 1/10 of a mile past the entrance to the airport. Ticket prices range from $15 – $28. For reservations call 342-2057 or visit www.hiltonheadtheatre.com
The Last Five Years is a contemporary song-cycle musical that ingeniously chronicles the five year life of a marriage, from meeting to break-up… or from break-up to meeting, depending on how you look at it. Written by Jason Robert Brown (Parade, Songs For A New World), The Last Five Years is an intensely personal look at the relationship between a writer and an actress told from both points of view.
The show is presented in "forward time" as we follow the story of their relationship from Jamie's perspective, starting with their first meeting and following through with their wedding and ultimate breakup. At the same time, Cathy relates the story in "reverse" – starting with their breakup and moving backwards in time until their first meeting at the end of the show. Made up mostly of solo turns, with beautiful music and alternately humorous and heartfelt lyrics, it is only in the middle of the show that Jamie and Cathy come together as Jamie proposes and the two are wed.
Musicals about relationships are nothing new, but The Last Five Years manages to reinvent the familiar formula and offers up one of the brightest, freshest scores of the new century.
"Brimming with persistent melodies, thoughtful lyrics and a heartfelt, compelling story"
–Associated Press
"Unpredictably heartfelt insights, energized by a seductive, rhythmic drive"
–Newsday
"Pulses with dangerous, irresistible giddiness…"
— The New York Times
Making his directorial debut with SCRC will be Jim Stark, who audiences will remember from his memorable turns on stage in A Night in November, Auntie & Me, The Drawer Boy, Professional Skepticism and The Illuminati. Taking on the role of Cathy will be SCRC favorite Peggy Trecker, who has appeared on SCRC's stage in Almost Maine, Rabbit Hole and Professional Skepticism. Bringing the role of Jamie to life will be Matt Mundy, who SCRC audiences will remember as the country western singer in this season's production of Foxfire.
The Last Five Years will run through August 3rd in South Carolina Repertory Company's theatre at 136 Beach City Rd.
For more information, call the box office at 843-342-2057 or visit the website at www.hiltonheadtheatre.com
REVIEW by Debbie Hoffman

Take five years of any relationship, and you'll get the good, the bad, the ugly, and the comedic; they all intertwine in the South Carolina Repertory Company's terrific production of Tony winner Jason Robert Brown's, The Last Five Years. This snappy musical duet between Cathy, a "past her prime" actress that never made her mark (Peggy Trecker), and Jamie, the successful, cocky young writer straight out of college (Matt Mundy) made me laugh, smile and connect with the ups and downs we face in the ever-challenging journey called courtship and marriage.
Writer Brown has shaken up the natural time sequence of a relationship by having Cathy move in reverse, while Jamie's perspective is portrayed in real time, creating multiple layers of drama and comedy, thought and emotion, urging us to examine the myriad reasons events unfolded as they did for these two hopeful, talented, love-filled characters.
Peggy Trecker as Cathy has an amazing voice, full of power and control, without any of the amplification or special sweeteners a director could have used on the big stage. She could stand up to many of the best voices I've heard on Broadway. Bravo! Trecker has appeared on the National Tour of Miss Saigon, as Audrey in Little Shop of Horrors and Cassie and Judy in A Chorus Line.
Whatever Matt Mundy lacks in vocal perfection, he more than makes up for with hilarious lyrical freedom and character portrayals. We get a glimpse into his roots in musical numbers like "Shiksa Goddess" and "The Schmuel Song." This all-song musical features addictive melodies and clever, touching lyrics that Matt Mundy makes his own through his upbeat, energetic interpretations.
Janice Creech as Musical Director and pianist and Michael Geib on bass give the musical the pace and tone these wonderful songs deserve.