Excitement builds around Nancy Ritter's debut novel set in Beaufort
Several years ago, I met Nancy Ritter and her little dog Otis on a visit to the Pat Conroy Literary Center. We instantly connected over our mutual love of Conroy novels, the beauty of the Lowcountry and all things related to dogs. Not long after meeting her, she mentioned she'd begun writing the novel, Slack Tide. Fast forward five years to its debut March 18 with an open house and author's signing at the Conroy Center.
Nancy and I sat down to discuss all things Slack Tide . . .
Carolyn Mason:  I know, but tell the readers how you got the idea for Slack Tide?
Nancy Ritter: One Saturday, about five years ago, I was docenting at the Pat Conroy Literary Center with my rescue dog Otis. A couple came in — well, you and your husband Jeff came in — and we quickly connected. That night, over a glass of wine, as Otis sat between you and Jeff, you told me about your dog Hank, who had recently gone missing. That night, I couldn't sleep. I couldn't shake the thought of what I would do if Otis ever vanished. How would I feel? How far would I go to find him? Over the next weeks, those thoughts turned into an obsession and, like all good obsessions, eventually turned into a book.  
CM: Cassandra King, author of Tell Me a Story: My Life with Pat Conroy's cover blurb describes the book: "Part My Dog Skip and part Midnight in the Garden of Good and Evil, Slack Tide is a beautifully crafted literary mystery for anyone who has loved and lost and found the healing power of hope along the way." Tell us more!
​NR: My protagonist, Cecilia, moves to Beaufort, not knowing a soul. On her first day in town, her beloved pooch, Wink, vanishes. The novel follows her search for Wink and the quirky cast of characters she meets along the way.
​CM: Describe some of the themes woven throughout the story.
​NR: I wanted to explore "ambiguous loss," a concept I learned about at the Justice Department when I was working on our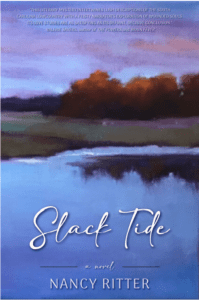 nation's missing-persons crisis. As the story progresses, Cecilia grapples with the possibility that she may never know what happened to Wink. Although that mystery lies at the core of the novel, one of the book's main themes is "community" and how (most!) people offer tenderness and mercy when someone is at their most vulnerable.
​CM: Otis is the most amazing, dignified fellow and beloved by everyone lucky enough to meet him. Tell me about your little fellow and how his spirit and personality is reflected in thestory's missing dog, Wink.
​NR: Otis is Wink (and Wink is Otis). As far as spirit and personality are concerned, folks should come to the Conroy Center on March 18, meet the little dude, and form their own impressions.
​CM: What was the impetus to place this novel in Beaufort?
NR: Beyond being blown away by the beauty of the Lowcountry, you mean? I guess I saw it as a personal challenge: I wanted to see if I could write convincingly about a small town and a unique natural environment that were totally new to me.  
​CM: While this is your first published novel, you clearly have a writing background.
​NR: I've written all my life. Although I received a degree in English Education, I quickly realized that I was not very good at teaching. I don't want to tell you how long I lasted in the classroom, but suffice it to say, it was even less time than Pat Conroy. After that, I worked as a paralegal, which demanded a ton of writing. Then, in my mid-forties, I took a flyer (and a big cut in salary) to try my hand as a news reporter. I loved that work. Eventually, I landed a great gig at the Department of Justice where I wrote about cutting-edge criminal-justice issues, like solving sexual assaults and keeping kids out of gangs. Along the way, I received a lot of recognition and awards, culminating in one of my greatest thrills: working on a team that received a Service to America medal and an invitation to the White House.
​CM: I am so inspired by the blood, sweat and tears that went into the writing of this story. What would you say to someone who thinks they are too old to start writing a book?
​Nancy Ritter: I'd say the same thing to someone who thinks they're too young to write a book, although I'd probably say it with more passion: Just start! If you finish it before you die, you'll be really proud of yourself — and experience a life-changing dose of humility.
​CM: Tell me about a favorite author?
​NR: My all-time fav is John Banville. While I was writing Slack Tide, I read and re-read his novels, especially The Sea. Reading Banville helped me channel the man's extraordinary tenderness with words.
​CM: I am so curious about the title, Slack Tide. What does it mean for those of us new to this tidal area?
​NR: A slack tide is a very short period between the ebbing and flooding of a tide. During this time, the water appears to be unstressed — that is, not flowing in either direction — but, of course, there's still lots happening under the surface. In my novel, slack tide is a metaphor that marks a tipping point for my protagonist where she feels the tide may be turning in the search for her dog.
​CM: I understand you're giving your author royalties from the sale of the books at the March 18 launch to the Pat Conroy Literary Center. What is that about?
​NR: It's simply about my support, as an involved citizen, of a local nonprofit's mission to nurture reading and writing.
Local Book Launch for Nancy Ritter's Slack Tide
Saturday, March 18 – 5:30-7pm
Pat Conroy Literary Center, 601 Bladen Street, Beaufort
www.patconroyliterarycenter.org