World-renowned violinist Frank Almond brings his

famous centuries old Stradivarius to Beaufort to benefit the Boys and Girls Clubs.

Interview by Mark Shaffer
Frank Almond talks about the 300-year-old violin he plays as if it were a person. Although he considers the rare and valuable Lipinski Stradivarius to be a "super high-end tool" it is also the most intimate of partners, one who pushes his skill far beyond the limits of lesser instruments. So, when a stranger tasered him and took it in a Milwaukee parking lot on a subzero winter's night in 2014 it felt more like a kidnapping than an armed robbery.
       What followed over the course of nine days made international headlines, spawned a lengthy piece in Vanity Fair as well as a BBC documentary and shook the world of classical music. "It was unprecedented," says Almond. This had simply never happened before. The Lipinski, valued at around $6 million, was recovered thanks largely to two things: 1) a police chief who made it priority number one for the Milwaukee P.D., and 2) a small time crook with delusions of grandeur and half of a plan. And it wasn't even a very good half at that.
        Mr. Almond brings the Lipinski and the tale of The Stradivarius Affair to Beaufort on January 9th for a benefit to raise funds for the Boys and Girls Clubs of Northern Beaufort County (see following article for details). The newly restored Tabby Place on Port Republic Street in historic downtown Beaufort is the setting for Notes: An Evening of Musical Storytelling & Casual Conversation. And according to Almond, concertmaster for the Milwaukee Symphony Orchestra, he and pianist Michael Braz won't be serving up anything stuffy.  
        "Well, hopefully it will have much more of a party atmosphere than most classical concerts a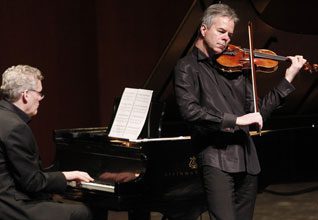 lot of people experience," Almond says with a laugh. "I'm not one for the traditional stuffy classical event, although that is a tradition that endures. This is a fundraiser for the Boys and Girls Club – that's the focus – at the same time [pianist] Mike Braz and I thought this would be a great way to play some terrific music and tell a good story at the same time. It should be pretty lively."
        
          Mark Shaffer: Most people don't associate 'lively' with classical music. Are you constantly battling that expectation of stuffy and boring?
          Frank Almond: Yes, I am. But one of the big problems is that classical music is sometimes stuffy and boring. (Both laugh)
            And that's something that's stuck with it for a variety of reasons. Some of the formats are antiquated and full of tradition and there are a lot of people who feel strongly that those traditions should be upheld. The fact is that most people, in this country especially, don't know a whole lot about classical music. It's not part of their daily lives. One of my main objectives, both with the Milwaukee Symphony Orchestra and my chamber music series, is to have an atmosphere and a format – an experience – that people can relate to on a number of different levels. It's not phony. It's not designed to trick them into the concert hall. It's designed to bring people in to listen to some music that might change the way they think. And ultimately that's what happens with a lot of people.
            MS: Of course another attraction for this event is the instrument you'll be playing –
the Lipinski Stradivarius. I've just re-read Buzz Bissinger's piece on the heist in Vanity Fair (The Stradivarius Affair, November, 2014).
            FA: He did a great job with it.
            MS: It's crazy and we'll get to that in a moment. But I'm guessing most of the people who attend this event have never been in a room with something like this.
            FA: It's rare because there are only four or five hundred instruments like this that were made in the Stradivari workshop that are still around and largely intact. That makes the Lipinski pretty rare indeed, but the larger point – and this comes up a lot when you talk about monetary evaluations and things like that – is why these things are so expensive. Who would pay that amount of money for a violin? There are a couple of reasons. First, Stradivari was indisputably the greatest musical instrument maker of all time. He achieved that by a number of different means. He was a brilliant craftsman, but more than that, he was an innovator.
            He expanded on about a hundred years of knowledge before him and completely revolutionized the way people made these instruments. Essentially, he was an incredible engineer. And on top of that he was an amazing businessman. (Both laugh)
            He had what amounted to a very small, very elite assembly line. He probably had two or three people working for him most of the time. And his instruments were highly coveted during his lifetime. He became incredibly famous and incredibly wealthy and he put a lot of violinmakers out of business.
            MS: He was the William Shakespeare of violinmakers.
            FA: Totally. But everyone knew who he was (laughs). His instruments were highly valued and coveted the moment they left the shop. And not only that, they were the best of the best for musicians. So you take all that and roll it together with these incredible pedigrees and histories of the people who owned them and the stories about them, plus they're functional antiquities that are totally unique.
            That's something that a lot of people don't understand. You can buy a table at Ikea and you can buy a Biedermeier table and they essentially serve the same function: you can set stuff on them. (Both laugh)
            But something on the level of a Stradivarius? Nobody's doing that now and that's kind of amazing when you think about the age in which we live. Ultimately [instruments like this] are super high-end tools that allow you to be creative in ways that you couldn't before.
            MS: There's also the cache that goes along with the name Stradivarius.
            FA: Right.
            MS: A lot of people get it even if they have no practical knowledge of what the instrument's capable of. It sort of precedes itself.
            FA: Yeah, it's kind of like saying "Tesla" these days. (Both laugh)
            MS: Bottom line, it's simply unlike any other instrument.
            FA: It probably took a year or so for us to get used to each other. That's a very mysterious process, as well, because you don't really understand how to use it for quite a while. I use the analogy that it's like somebody giving you a Ferrari to drive. You can wreck it really easily. (Both laugh)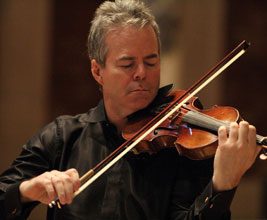 It takes quite a bit of time to adapt to each other. Your playing changes, the instrument sort of changes in a weird way. I'm lucky enough to be able to use this to the extent that it's part of my life every single day that I try mostly not to think about what it is I'm playing. I'm aware of it, but if every time I looked at it and thought that the first owner was Giuseppe Tartini and considered all the implications of that I'd drive myself crazy.
            I also think there's a myth that if you give any musician a Stradivarius they're just automatically going to sound great. That's not the case at all.
            MS: It is a fact that not everyone who owns a Ferrari should be allowed to drive a Ferrari.
            FA: (Laughs) Exactly.
            MS: Here's something to consider when you play in Beaufort: we recently celebrated our tricentennial. Beaufort's officially founded in 1711. Four years later this violin comes out of Stradivari's shop.
            FA: That's kind of amazing, isn't it?
            MS: It's an interesting perspective. You and the Lipinski were at the center of a heist that made international news last year.
            FA: Yeah, it was an ordeal I wouldn't wish on anyone and it was totally unprecedented.
            MS: Bissinger's Vanity Fair piece reads like a Coen Brothers movie.
            FA: Yeah, that's one of the first things I said to him. It really was like a Coen Brothers movie (laughs). At least it had a happy ending.
            MS: No one ended up in a wood chipper. (Laughs)
            FA: Right. It's a miracle the instrument survived the way it did and I'm incredibly fortunate that overall things turned out the way they did. There were way more silver linings than anyone ever expected.
            MS: It could have been exactly the opposite.
            FA: Especially with these guys. I think the investigators had a pretty good idea early on that there wasn't an awful lot of sophistication involved. There concerns because of that that the violin would be damaged. And that was the main focus: not just getting it back but getting it back in good condition.
            MS: And the Milwaukee police made this an absolute priority because they considered this instrument a piece of the city's cultural heritage.
            FA: It is. And that's another really interesting part of this case. Not just that no one had ever seen anything like this but in a way it was an affront to the local civic pride. And it could have gone a number of different ways in another city. It just happened that we have a police chief who's not only a big symphony fan but who is smart enough to understand the broader picture instantly. That part in the Vanity Fair piece when I'm sitting in the back of the squad car trying to explain things to a couple of beat cops – and God bless 'em, they were just doing their job – but they had absolutely no idea what I was talking about.
            MS: It's no laughing matter, but it's disturbingly funny nonetheless.
            FA: For the first hour after it was stolen my main concern was to get to Chief Flynn. I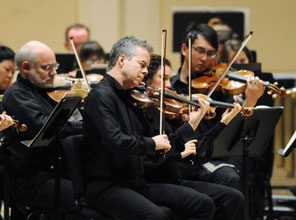 knew he'd get it right away. Eventually that happened. In fact he called the scene. I distinctly recall somebody handing me a cell phone and it was Chief Flynn and he was on [the case.] Everything changed right away. A bunch of cars showed up with detectives and forensics guys. He took a big risk with that because he ended up putting who knows how many homicide detectives on it 24/7 for days. He took some heat that, as it turns out, was unjustified. But it was a gamble that paid off and he deserves a lot of credit for doing that.
            MS: Have you played the instrument for the Chief and the people who recovered it?
            FA: We did a concert last year specifically for the Milwaukee Police Department. It was a 300th birthday kind of concert and the emphasis was to celebrate the people who were involved in the case. And in March the orchestra did a concert and we brought all of the lead detectives up on stage and Chief Flynn was on hand for that along with the mayor. It was the least we could do and I'll be thanking those guys for the rest of my life (laughs).
            MS: It's a remarkable story and one that simply adds to the lore of this famous 300-year-old instrument.
            FA: Absolutely. To my knowledge it had never been stolen before (laughs). I suppose it's possible in 300 years, but I don't know about it.
            MS: So, any chance of a Lipinski heist movie?
            FA: Oh, it's funny you should ask that. (Both laugh)
            MS: Oh, really?
            FA: Yeah, as far as I know there are two projects in the works. One of them I'm very involved in and it's not been announced yet. It may be by the time this event happens in Beaufort. It's a serious project and I'm very excited about it.
            MS: They're not calling it The Big Lipinski, are they?
            FA: (Laughs) Hopefully not if they want it to do well.
Learn more about Frank and the Lipinski Stradivarius and read the Vanity Fair article at www.frankalmond.com
DETAILS:
The famous "Lipinski" Stradivarius, made in 1715, journeys to the Lowcountry with world class violinist Frank Almond for Notes: An Evening of Musical Storytelling & Casual Conversation, the first annual gala event to benefit the Boys & Girls Clubs of Northern Beaufort County.
Notes will be a night to remember, starting with its venue, the newly restored Tabby Place on Port Republic Street in historic downtown Beaufort. Forget the tony proceedings a $6 million Stradivarius might inspire. Dress will be casual and the setting relaxed. "The new Tabby Place is the largest venue north of the Broad," says event planner Jodie Miller of Plum Productions. "We're going to transform it . . . give it a jazz clubby feel. Without the jazz." Southern Graces will serve up wonderful food and cocktails will flow.
And Frank Almond, renowned recording artist and concertmaster of the Milwaukee Symphony, will play his famous violin. The "Lipinski" made international news in 2014 when it was stolen from Frank during an armed robbery. The heist and recovery of this rare instrument – insured for $6 million – was the subject of a BBC documentary, a long piece in Vanity Fair, and myriad other media features. Almond will share the tale of The Lipinski Affair and other anecdotes during an animated performance, along with Michael Braz on a Steinway piano. Make no mistake: Notes won't be a stuffy concert in a hushed auditorium. Almond hates stuffy. "This is definitely going to have a party atmosphere," he says. The event also features an art auction with donated pieces by several of Beaufort's finest artists offering their interpretations of the "Lipinski" in a variety of media. Student art will be on display as well.
"It's going to be a fabulous evening," says Jeff Evans, publisher of Lowcountry Weekly, who's chairing the event with his wife Margaret, along with honorary chairs Brantley and Alice Harvey.
"Everybody knows Brantley as the former Lieutenant Governor of South Carolina and an all around great guy," says Margaret Evans. "What some people don't know is that he played violin with the Beaufort Symphony Orchestra for years. So this event is near and dear to his heart. Jeff and I are thrilled to be serving with the Harveys."
Mike Gonzalez, president of the Boys & Girls Clubs of Northern Beaufort County, is a friend of Frank Almond's and says Beaufort is in for a real treat. "We are so excited to have an artist of Frank's stature coming to play at our Notes event. Both he and the 'Lipinski' are artistic treasures."
Gonzalez says Almond – who's other great passion is education – is giving his time and talent for Notes because he believes in the mission of the Boys & Girls Clubs. "Our organizations are focused on helping our kids be better students, healthier people, and contributing citizens," says Gonzalez. "This event is the culmination of hard work by a committed group of community volunteers determined to extend our services to more youth in the area."
Notes: An Evening of Musical Storytelling and Casual Conversation is Saturday, January 9th at 6 pm at Tabby Place in downtown Beaufort. Sponsorships and VIP group packages are available, and seating is limited. For sponsorship or ticket information contact notes@plum-productions.com