… Jaimee Paul is coming to Beaufort

The USCB Beaufort Center for the Arts will present Jaimee Paul in "At Last," a powerful jazz tribute to the great female singers of our time, on Friday, April 3 at 7:30 pm.
 Imagine a 1940's jazz club, filled with the voices of Ella Fitzgerald, Billie Holiday, Rosemary Clooney, and other favorites. Jaimee Paul and her jazz combo, led by husband Leif Shires on trumpet, deliver just that. "At Last," a tribute to that wonderful era and those fabulous female vocalists, will take you back to the glory days of yesteryear.
Raised in Southern Illinois, Jaime Paul left her hometown for Nashville, Tennessee to study music business at highly acclaimed Belmont University.
"I grew up singing in church, since I was five years old," she says. "I still sing in my church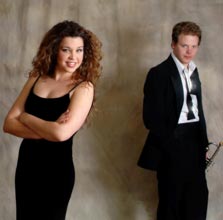 choir here in Nashville. I've always loved Gospel music, and it definitely led me into my love of jazz. I love the option of singing different notes than what's written on the page, and both Gospel and Jazz allow me to do that. I love Babbie Mason and Natalie Cole . . . But Frank Sinatra and Bing Crosby are at the top of my list of influences!"
After graduation from Belmont, Paul quickly found work at various record labels handling marketing and radio promotion; simultaneously she began working part time as a studio session singer. Not long after, studio work began to take over her schedule and she became a full time musician. Her talent was rapidly recognized, and soon she was touring as a background vocalist with country superstar Wynonna. Paul has also toured with American Idol alum Kelly Clarkson on her North American co-headlining tour with MAROON 5, with the Judds, and Jim Brickman.
Some diverse acts, indeed. When asked about her own favorite listening choices, Paul says, "Well, this may sound incredibly strange, but I listen to a lot of classical music. I don't have a 'favorite' artist in today's line up, per say. But I of course like Michael Buble and Diana Krall. Melody Gardot has been popping up on my playlist lately as well." 
Christopher Loudon of The Jazz Times writes, "Paul is blessed with a glorious voice (indeed there is significant evidence of [Aretha] Franklin's raw majesty), one that deserves to travel under its own powerful steam." Paul's Hymns of Prayer was nominated for a 2013 Dove Award, and her At Last album ended 2012 as the #1 female vocalist album in the Jazz Downloads category.
Paul's husband Leif Shires plays trumpet in her band. "I love traveling and performing with my husband," she says. "It's so nice to work together. We laugh and joke on stage, so it makes the show fun! He's an incredibly talented musician and his heart is huge for connecting with people. I love just sitting back stage and listening to him and the band play together. Someday I'd love to go to a Leif Shires Quartet concert."
Tickets to see Jaimee Paul and her jazz combo are on sale now. Adult $25, Senior $20, and Students $15. For more information visit the USCB CFA website www.uscbcenterforthearts.com or call 843-521-4145.