The Beaufort Symphony Orchestra starts its 28th concert season.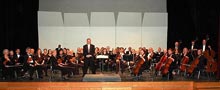 The Beaufort Symphony Orchestra is pleased to announce its 28
th
concert season. It promises to be an exciting and enjoyable one! The season opens on October 11 and 14 with
Symphonic Showcase
and will include Mozart's
Marriage of Figaro Overture,
Haydn's
Symphony No. 45, Farewell,
and Tchaikovsky's Symphony No. 5.
'Tis the Season will help us celebrate the Holidays with Christmas and Holiday favorites. Roger Moss, well re-known soloist from Savannah, will be the featured guest artist. The concert will end with the traditional Christmas Carol Sing with the audience. These concerts will be December 13 and 16.
Bavarian Bastions will feature Brahms' Symphony No.2 and Schumann's Piano Concerto. Arthur Tollefson returns as guest piano soloist by popular demand. These concerts will be February 28 and March 3, 2013.
The season concludes on April 18 and 21 with Hollywood Extravaganza, Film Score in Reverse. The orchestra will accompany some silent classics.
Frederick Devyatkin is Musical Director and Conductor of the orchestra.
Season tickets are available at www.beaufortorchestra.org or call 1(800) 595-4TIX (4849) All concerts are held at the USCB Performing Arts Auditorium, 801 Carteret Street, Beaufort.