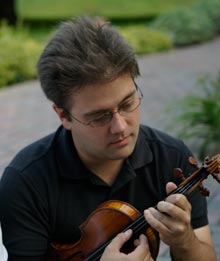 The USCB Festival Series' 36th season concludes with a multihued sound palette. Break-out music of Schubert, mellow middle-period Beethoven, gorgeously melodic Tchaikovsky, and high voltage Sollima will provide a concert experience that stimulates and lifts the spirit. Come join in a journey of discovery, reflection, and aesthetic satisfaction. 
         Schubert's Quartettsatz in c minor was written in December 1820, four years after the last of his early quartets, and anticipates the profundity of the three monumental quartets he wrote at the end of his life. It is a world removed from his boyhood quartets, plumbs depths of shadow and darkness, tries to break away but ultimately fails.
         Cellist and composer Giovanni Sollima was born in Palermo in 1962, to a family of musicians. He has been energized by every type of music and seeks to bring them together. Elements of classical, rock, jazz, eastern, and ethnic have been combined in a unique blend that has created a worldwide following. Viaggio in Italia, written in 2000, is a 14-movement suite, from which two string quartet movements will be heard.
         Beethoven's String Quartet No. 10 in E-flat Major, Op 74 was written in 1809 during a time when the French were fiercely bombarding Vienna. It belies the facile idea that Beethoven's music is largely autobiographical; this quartet stands as an island of calm. Even its nickname, "The Harp", taken from plucked notes in the first movement, suggests grace and uplift. The concert concludes with Tchaikovsky's String Quartet No. 1, Opus II. Written rather quickly in 1871 to fill out a benefit concert for the composer, it proved to be the hit of the evening, especially due to the warmth of the Andante cantabile. In 1876, Tchaikovsky wrote in his diary, "Perhaps I was never so flattered in my life nor was my pride as a composer so stirred as when Leo Tolstoy, sitting beside me listening to the Andante of my First Quartet, dissolved in tears." Of all the exquisite melodies that Tchaikovsky wrote, don't you want to hear the one that made Tolstoy cry?
         The artists who will bring this music to life are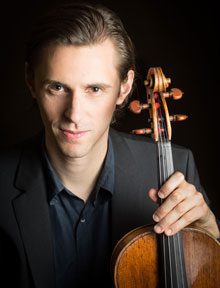 Festival Series veterans who are in the middle of stellar careers. Violinist Arron Boyd (top, left) has performed as soloist, chamber musician, recording artist and concertizes throughout the US, Europe, Russia, and Asia, while violinist Jesse Mills (above, right) is a two-time Grammy nominee who is renowned as an improvisational artist and composer and enjoys performing in genres from classical to contemporary. Belgian-born violist Dimitri Murrath (left) was a first prize winner in the Primrose International Viola Competition and a recipient of a 2014 Avery Fischer Career Grant. An avid chamber musician, Murrath is a member of the Boston Chamber Music Society. And the person producing the rich, deep tones that underpin these artists will be your host, cellist Edward Arron.
         Join in the joy of experiencing beautiful music brilliantly played. Information and tickets are available on www.uscb.edu/festivalseries or at 843-208-8246  Mon. through Fri. The USCB Center for the Arts, at 801 Carteret Street, opens at 4:00pm on the day of the concert, and the performance begins at 5:00 pm, Sunday, April 24.