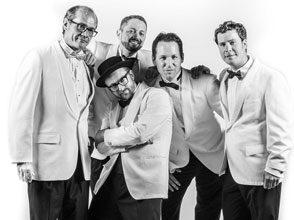 Get ready for some mind-blowing music when Velvet Caravan hits the stage at Beaufort Symphony Orchestra's
Slavic Swing
concert.
The last concert of the Beaufort Symphony Orchestra season will go out with a bang when "Velvet Caravan" explodes on stage with what they call "European redneck music" evoking flavors of Gypsy, Honky Tonk, Swing and Latin played by an equally eclectic group of musicians.
Slavic Swing will feature one of the most unusual ensembles on stage today in a tribute to Django Reinhardt, creator of "hot" jazz guitar in the 1940's. The group includes classically schooled and self-taught musicians playing with high-energy passion and ferocious technique. They have been performing to sold-out audiences in Hilton Head and Savannah, and will be appearing at the Rochester International Jazz Festival this June.
Violinist Ricardo Ochoa was accepted into the Venezuelan Philharmonic Orchestra at age 15, its youngest member. He holds a Masters degree in Music from Duquesne University in Pittsburgh and was a member of the city's Ballet and Opera Orchestra and Savannah Symphony Orchestra. He is currently the principal second of the Savannah Philharmonic Orchestra.  
Sasha Strunjas was born in Slovenia and comes from a non-musical family and does not read music. He learned guitar from the gypsies he played with in the local bars. He toured with various bands during the 1980's and lived in Germany in the '90's, sharpening his musical talent as a member of a Gypsy trio.
On keyboards and accordion is Jared Hall, a native of Iowa who began his musical career in Austin TX. He has performed in a variety of Music Festivals, including, Austin City Limits, South by Southwest, North by Northeast, Hardly Strictly Bluegrass and Kerrville Folk Festival. He has played in touring rock bands, symphony orchestras, musical theatre and opera productions.
Boston native Jesse Monkman is percussionist for the group and received his training from the New England Conservatory of Music. He is a Fellow of the Tanglewood, Pacific and Spoleto Music Festivals and has played with the Boston and Portland Symphony Orchestras. He currently plays with the Jacksonville, Charleston, Savannah and Hilton Head Orchestras.
Eric Dunn was born in Tifton, GA but grew up in Savannah. He started playing guitar at age 10 and bass guitar at 18. He picked up the upright bass when he joined the group. He is a founding member of the Americana Band and The Trainwrecks, and has been the production coordinator for the Savannah Music Festival since 2009.
Two of the members, Ricardo and Jesse, have been friends of the Beaufort Orchestra for years and have performed with them many times, according to Maestro Frederick Devyatkin. "When the group developed a program that collaborated with a full symphony orchestra I could not resist presenting them to our BSO audience," he said. He also noted that the musicians have a humorous stage presence that makes their music that much more fun and entertaining.
The orchestra will play selections by Dvorak and Tchaikovsky. Slavonic Dance No. 8 is one of 16 pieces composed by Antonin Dvorak between 1878 and 1886. Based on Eastern European folk music, the dances are lively and full of national character and established Dvorak's international reputation. The concert will conclude with stirring "Marche Slave" by Tchaikovsky. In 1876 the Russian Musical Society commissioned the piece for a concert to benefit wounded Serbian veterans of the Serbo-Turkish War. Also called the "Serbo-Russian March" it premiered in Moscow in 1876.
The season's final concert will be held at the Sea Island Presbyterian Church on Lady's Island in Beaufort on Thursday, May 12 at 7:30 pm and Sunday, May 15 at 4 pm. Go to the orchestra website for a map with directions and to purchase tickets. Or go to www.TIX.com or call 1-800-595-4849. Adults are $40 and Students $15 and are available at the door.