It's that time again — starting with a Special Mother's Day Performance on May 11th and ending in June, the Arts Council of Beaufort County and the Town of Port Royal present these five free performances on Saturdays, at 5:30pm in the heart of Old Town Port Royal ~ bring your chairs! Visit www.beaufortcountyarts.com for more information.
May 11th Special Mother's Day Performance of the Heritage Aire Celtic Ensemble
A component of the US Air Force Heritage of America Band, Heritage Aire blends a contemporary musical approach with traditional Celtic music style to create a stunning musical tapestry. Just back from a tour in Iraq and Afghanistan, the members of Heritage Aire perform on traditional instruments such as the Irish flute, tin whistles, button accordion, and bodhran.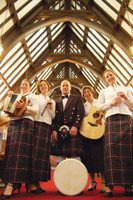 May 17th Elise Witt & the Mezzanine Band ~ "Global, Local & Homemade Songs"
Imagine a cabaret starring Fats Waller and Edith Piaf: when Mick Kinney's wry humor and exquisite piano playing meet Elise Witt's nightingale voice and world music repertoire, just such a musical event is created. Elise and Mick complement each other's original compositions, singing soulful harmonies and engaging the audience with their hilarious antics. Add to this a bevy of songs in a variety of languages, and a few selections where the audience becomes the glorious back up chorus, and you have a portrait of an unforgettable evening with Mick & Elise, as well as Don Erdman on clarinet, flute, and tenor saxophone.
Funded in part by a grant from the Southern Arts Federation in partnership with the National Endowment for the Arts and the South Carolina Arts Commission; funded in part by Alternate Roots.
May 31st Cool John Ferguson
The Lowcountry guitarist and Blues man began his international career right here on St Helena Island in the 1950s, when as a little boy he first touched a guitar. Since then, he has collaborated with Taj Mahal, Kenny Wayne Shepard, BB King, the Stylistics, Beverly Guitar Watkins, Captain Luke, and more. Living Blues Magazine honored him for two consecutive years as "Most Outstanding Guitarist." Tours and blues festivals around the world include Lincoln Center Out-Of-Doors, Lucerne Blues Festival, Switzerland's Blues to Bop Festival, Australia's Byron Bay Blues Festival, Word of Mouth, the Savannah Music Festival, and the Columbia Blues Festival. Taj Mahal stated that Cool John ranks "among the five greatest guitarists in the world. He is a force to be reckoned with in the music industry. He is with the ranks of Jimi Hendrix, Wes Montgomery and Django Reinhart."

June 14th Delta Moon~ double slide guitar band
Delta Moon are Tom Gray and Mark Johnson, two full-blooded musicians who got to know each other after meeting in a local Atlanta music store. Lead guitarist Mark Johnson came up with the band's name after visiting Muddy Waters' cabin, and for the last few years, he and bandmate Tom Gray have been doing their best to make Muddy proud. With a world-weary and gritty sound, Delta Moon slips in plenty of their dual slide guitar goodness (Gray on lap steel and Johnson on electric) especially on the simmering and surly "Jessie Mae," and a remake of Gray's "Money Changes Everything."
June 28th Havana Son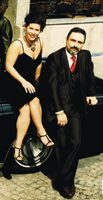 Back by popular demand, the sultry sounds of a tropical paradise are combined with pulsing rhythms and sweet melodies. Playing authentic rhythms such as Cha Cha Cha, Salsa, Son, and Merengue, Havana Son keeps the audience moving and revives the awesome beat of the tropics. Bandleader Rene Herrera, formerly lead trombone for the symphony in Cuba and a Mercury records recording artist, and is an award winning composer and arranger. This world-renowned bandleader brings the music to life through his piano, voice, and steamy arrangements. Lillian Valdes adds her unique vocal style to create an intoxicating cocktail of sounds, shaking things up a bit with the maracas and the guiro, adding a touch of the Caribbean heat to classic American Standards.