On Friday, September 26th, the Beaufort Irish Festival Committee will sponsor an Irish Heritage Concert, featuring singer/songwriter Carroll Brown.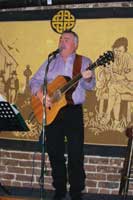 E. David Moulton of the Lowcountry Sun writes: "Carroll Brown is a brilliant guitar player whose solos bring applause and leave other guitar players shaking their heads in disbelief and admiration. A powerful, yet warm and clear singing voice and his original songs will touch your heart. Couple this with a cheerful and humorous dialog with his audience between songs, and an amazing repertoire of over a thousand cover tunes ranging from traditional to hit songs of recent years, and you have the consummate entertainer."
Born and raised on a farm in rural South Carolina, Carroll's first music influences were church music and what scatterings he could pick up from the nighttime radio. His mother was the church pianist and taught him his first chords on the guitar. This gift of music would be his constant companion. His first performances were playing guitar and singing in his pre-teen years in his home church.
Traditional southern gospel and bluegrass would give way to Jim Croce and James Taylor as he entered college. The first paying jobs were to pay for the tuition but would pave the way for his life's work. His college years were filled with music courses and performances in a variety of groups and venues. His broadcasting degree would qualify him to be a recording engineer, which was to be his ticket to the music business. He first tested the waters in New York but opted for Nashville, Tennessee. There he worked with songwriters and music publishing and in various studios recording and helping produce nationally released records.
Family matters and money matters brought him back to South Carolina and back to performing in 1981. He settled in Charleston, where he started a recording studio and music publishing business. "Charleston Recording" would become the largest studio in lower South Carolina. A steady gig at the Mills House Hotel helped to pay for his growing family and the dream that refused to die. He released his "Carroll Brown Live" cassette while working there. He produced over sixty albums on both regional and national acts and built an impressive resume. The last album he produced before he sold the business was his own "Roots and Wings" project. It's the story of a farm boy who is driven from home by a dream only to eventually return to his roots.
Those roots include Irish blood and his intense interest in the Irish music led to visits to his ancestral homeland and the release of his "Songs of Ireland project" in 1998.
Other recordings include the 1999 "River of Love" with Carroll's Charleston band "Ace Basin" which received a notable amount of airplay nationwide and in several European countries on Country and Western stations. In 2000 a holiday project with Frank Emerson, & Harry O'Donoghue "A Christmas Postcard" kicked off an annual holiday concert tour which has continued to grow in popularity each year. In 2002 he recorded a nostalgic acoustic project similar in sentiment to "Roots & Wings" called "The Old King Edward Box." In 2003 two projects were released: a live solo Irish project called "Pub Favorites" and an instrumental guitar project of familiar Southern songs called "Melodies of the Old South" with guitarist, Mike Davis. His current project called "Homegrown Love" is a compilation project of favorite songs picked from Carroll's previous studio recording projects and now is available.
Today Carroll and his wife, partner of over thirty years, live on the family farm where he was raised. The gift his mother gave him is still his passion. He is still performing full time in venues and festivals around the Southeastern U.S. and he is still writing songs and working to realize the dream that captivated him so long ago.
Carroll Brown will perform live at the Holiday Inn of Beaufort, September 26th, at 7 pm.