Big Black & Eric Jones (plus three!) to perform at ARTworks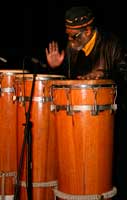 "I'm going to open with my man Eric Jones on the piano, then play a duo, then bring in the three guys. It's going to build up," described Big Black, who will perform at ARTworks in Beaufort Town Center on Friday, April 10th, 7:30 to 9:30. Seats are limited and $20. It is advisable to reserve now: 379-2787.
"I started playing here in Beaufort at age eight," explained Big Black, who back then was little Daniel Ray. "I am a self-taught hand percussionist, unique in application and style." He was also inducted into the Jazz Hall of Fame in 2008. Big Black left Beaufort at 15 to take on the entire 1950s Jazz world, and then the 60s, 70s, 80s…"I am the first American hand percussionist. Back then, the congas were not played with Jazz, and I came up with this approach." Now he's back in Beaufort, which is significant in more ways than one— "I've never had a concert here, this is history in the making."
For the Double Hands Duo concert, Big Black will be joined by Eric Jones on piano and of Savannah, Amin El on bass and of California ("He's got a velvet voice, he's going to blow you girls away singing in Spanish") Sean Bolden on drums, also of Savannah, and Eric Falcom on tenor sax, of FLA.
For more information, visit beaufortcountyarts.com , and open up your ears.