Fighting for Hope & a Cure for Multiple Sclerosis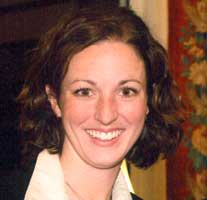 Off the top of my head, if I were asked to list some of my most life altering moments, among them would be the day my father survived a violent head-on collision with a drunk driver, the day my older brother went off to the Navy and left me to navigate my formative years alone, and the day I entered graduate school – and later that evening found out I was pregnant.Then there's the day that my mother, Kathy Bauer, called to let me know that her battle to find out what was wrong with her was over – that she had been diagnosed with Multiple Sclerosis. That's a day I am still coping with. You see, my dad is alive and well and as 'scrappy' as ever, my brother is out of the service and safe, having served our country proudly, and my son is almost four and as healthy and as happy as kids come. My mother, however, is, for lack of a better word, dealing.
It was July 2001, and I was 23 the day she called, working my first job after college in Charlotte, NC. I shared a tiny cubicle space with my boss, who overheard my gasp and who could not help but to see my tears as I quickly turned my back to him and tried to exhale like a normal person. I remember him taking the phone out of my hands, hanging it up and asking "what's wrong, Carrie?" In an instant my mind was flooded with thoughts like "don't get personal," "he won't understand," "get it together." While I wasn't offered the afternoon off, I was left alone after a short explanation on my part, and for that I was appreciative. I was four hours away from my mother and felt helpless. What now? What could I do to help her? Surely this, this DISEASE couldn't be that bad?

For some it's not. Multiple Sclerosis (or MS) is a chronic, often disabling disease, that attacks the central nervous system. Symptoms may be mild, such as numbness in the limbs, or severe, such as paralysis or loss of vision. The progress, severity, and symptoms are unpredictable and vary from one person to another. There are now FDA-approved medications that have been shown to reduce the number of relapses and "modify" or slow down the underlying course of MS.
Unfortunately for my mother, she was misdiagnosed for so long that she missed the opportunities to benefit from these medications. Her symptoms are pretty severe, but she keeps her pain under control with prescription medicine and a good dose of her "New Yorker" (while she's been here since 1988, I'd venture to say that her Irish New York upbringing has helped her to fight as long as she has).

My mom is tough. Feisty is more like it. My childhood memories are of her working, hard, and always on the go with my brother and me by her side. We almost couldn't keep up with her! As my teenage years hit, so did her symptoms. Dizziness, vision problems, random falling, muscle pain, wretched migraines and a whole lot of confusion seemed to consume her. It's not as if she and numerous doctors didn't try to figure out what was wrong. It's just that MS shares a lot of symptoms with a lot of other diseases and it's not exactly easy to diagnose.
For nearly eight years now, she has continued a steady course of pain medications and has stopped working outside of the home. She tries very hard to do things that I take for granted daily. Just when someone recommends a wheelchair, she "gets her Irish up" as she says, and takes a step.
What does someone do when a parent becomes so sick? I can't say there's something one is supposed to do, really. I did my share of crying, of "mourning" for my mother; when you see someone so full of life have the quality of it compromised – stolen even – by a disease, it's maddening. I am a 'doer' by nature, so my inclination was to find something to get my hands in that was beneficial to the cause. I got involved in my area MS Society and passed out flyers (don't get me started on the day I found myself on the WRONG side of Charlotte) and solicited food donations and sponsors for the MS Walk. Then there was the day I applied for a job with the MS Society and was offered a position. I wasn't sure I could handle the "close to home-ness" and turned it down. Instead, I continued on with my efforts to help and raise money for the MS Walk.

But something wasn't right. Calling my mom and sending pictures after the walk just didn't seem to be enough. When I moved back to Beaufort, I was pleasantly surprised by several life-long friends who stepped up and offered to be part of a walk team with me. A team! That was it…one for all and all for one…right? Right. Last year we formed TEAM BAUER POWER – fitting, I think. THIS felt right. Home is where the heart is I guess – where my mom is.
We held our first team fundraiser last year and doubled our fundraising goal despite bad weather and less-than-expected attendance. A couple of weeks later we excitedly drove to the MS Walk on Hilton Head to turn in our money, and without any intentional disrespect, were floored by the small number of people in attendance. I thought, "Come on people – this is a MAJOR disease!" Approximately 400,000 Americans, including the late comedian Richard Pryor, beloved actress Annette Funicello and performer Alan Osmond, are afflicted with this disease. I remember thinking that maybe there just aren't a lot of people in the area who have MS. Then I used my brain – maybe it was that there weren't a lot of people in the area who were eudcated about the disease. Yup – that was it.
In our second year as TEAM BAUER POWER, we've increased from a group of eight walkers to a family of 11, which means more people are aware of Multiple Sclerosis as a whole. We've got our walking shoes laced for the MS Walk on May 9, our fundraiser in place for April 4, and our hopes held high for a cure for Multiple Sclerosis.
Want to go?
TEAM BAUER POWER COOKOUT/SILENT AUCTION
to benefit the Mid-Atlantic Chapter of the MS Society
When: Saturday, April 4, 12 – 3 p.m.
Where: Port Royal Elementary School Park, Beaufort, SC
More Info: Carrie Carper, Captain, TEAM BAUER POWER 843-812-9422
What to Expect: Music by the Ramblin' Coastal DJ, a silent auction, raffles, children's activities by Jumpin Jaxx, adult entertainment, food and drink.
Can't go but want to help? http://main.nationalmssociety.org/site/TR /Walk/NCPWalkEvents?pg=team&fr_id=10979&team_id=142623
HILTON HEAD ISLAND MS WALK
When: Saturday, May 9
4 p.m. picnic, 5 p.m. registration, 6 p.m. walk and 7:45 p.m. candlelight ceremony
Where: Jarvis Creek Park, Hilton Head Island, SC
More Info: www.nationalmssociety.org