Big band music lovers will swing to the sentimental sound of the Tommy Dorsey Orchestra, led by renowned trombonist Buddy Morrow, at Tradition Hilton Head on Sunday, May 18, as part of a celebration of the closing of tours of the HGTV Green Home.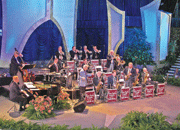 The highly successful tours of the eco-friendly home, featured on HGTV and which will be given away, are raising thousands of dollars for the United Way of the Lowcountry.
The public is invited to the free open-air concert beginning at 5 p.m. on the lawn between the Green Home and Tradition Hilton Head National Golf Course's Pro Shop. The public is encouraged to come early. Coolers will not be allowed but refreshments will be available. People are encouraged to bring lawn chairs and blankets. The Green Home will be open for final tours until 8 p.m.
Tradition Hilton Head, a 5,300-acre master-planned, green and sustainable mixed-use community being developed by Core Communities of South Carolina, is presenting the Tommy Dorsey Orchestra concert as thanks to the community for supporting the United Way by touring the HGTV Green Home.
"People throughout the United States and overseas have taken tours of the HGTV Green Home, and through the purchase of tickets, they are supporting the United Way and its 39 agencies that work to make our community a better place to live," said David Page, President of Tradition Hilton Head.
"They've also benefited in learning how they can make their homes and lives greener through Tradition Hilton Head's Green Preview Center," he said.
The Green Preview Center, located next to Tradition Hilton Head's Welcome Center, is a state-of-the-art showroom which features many components of green construction practices used in achieving LEED Gold Certification.
"These green components can also be implemented into your new home construction here at Tradition from any of our preferred builders," Page said.
Morrow is considered one of the world's great trombone players and is a frequent featured performer with bands of the big band era. Under his direction, the Tommy Dorsey Orchestra retains the authentic sound and style of Dorsey while incorporating contemporary music into the repertoire. Morrow first played with Dorsey in 1938.
The Tommy Dorsey Orchestra is recognized as one of the best all-time big band dance bands. Dorsey, dubbed "the sentimental gentleman of swing," was a master at creating warm, romantic, and melodic moods. Perhaps his band's most famous singer was Frank Sinatra.
Dorsey died in 1956.