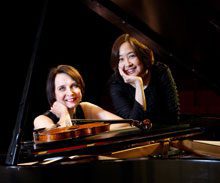 Are you a fan of classical music? I am, and I love piano and violin duos. So I am looking forward to this season's first concert on Fripp Island on Sunday, October 21, when the fabulous Kobayashi/Gray Duo will perform three outstanding pieces: A Beethoven sonata (No. 4 in A minor, if you must know), followed by "D'un matin de Printemps" by Lili Boulanger (yes, a French composer who wrote the composition in 1918, the year she turned 25 and, sadly, the last year of her life; and yes, Boulanger was a female, one of the few notable composers at that time).
And, last but not least, "Much Ado About Nothing," written by Erich Korngold, an Austrian composer and conductor who made a name for himself in Hollywood writing music for films. In 1936 he won an Oscar for the musical score of Anthony Adverse and in 1938 for The Adventures of Robin Hood.  Isn't the variety of treats in this Fripp music program amazing? Don't you want to attend the concert, too?
And you haven't even heard about the two performers. Violinist Laura Kobayashi, actually Dr. Laura Kobayashi (she received her degrees from Juilliard, Yale and Michigan), has taught at universities in San Francisco, Nebraska, West Virginia and Georgia, a career crowned by several teaching awards. She is a founding member of the Main Street Studio in Fairfax, Virginia, where she maintains a large private studio of students. She has played as a soloist in many a symphony and opera orchestra, been a member of a variety of chamber groups, and, needless to say, has performed in festivals and concert halls all over the world, from Norway to Argentina, from Thailand to South Africa.
Susan Keith Gray, actually Dr. Susan Keith Gray—pianist, pedagogue, adjudicator and clinician, has a similarly illustrious resumé. She received her degrees from Converse College, the University of Illinois and, like Laura, from Michigan. As the Wayne Knutson Distinguished Professor at the University of South Dakota, she, too, received excellence-in-teaching awards and held leadership positions in national music teacher associations. Her students of all ages are frequent winners in local, regional and national solo and concerto competitions. Many are successful graduates of music programs throughout the country.
The Kobayashi/Gray Duo made its international concert debut after winning the prestigious United States Information Agency Artistic Ambassador auditions, touring South America and the West Indies. Kobayashi and Gray have also performed in South Africa and Thailand, in workshops in Stavanger, Norway, and in the First International Conference on Women's Work in Music in Bangor, Wales. Of course, they have played and been celebrated in many reputable concert venues all over the US. In addition to a repertoire of standards, the duo specializes in the works of women composers from the 19th, 20th and 21st century— twenty-five of them. Laura and Susan's albums attest to their expertise. 
Do come and enjoy our concerts on Sundays at 5 pm at the Fripp Island Community Center, 205 Tarpon Blvd. You receive a free pass at the gate after 4:00 pm. Tickets s are only available at the door; adults $30, students are free. We can accept cash or personal checks only. You might want to become a member of Fripp Island Friends of Music—a great value for the reduced season ticket price. See frippfriendsofmusic.com or call 843-838-1777. You are invited to the post-concert reception, meet the musicians and enjoy complimentary wine and delicious hors d'oeuvres from Harold's Catering. By the way, the duo will visit a Beaufort County school on the morning after the concert arranged by FIFOM's Music in the Schools program.
I hope to see you October 21st.
– Margit Resch