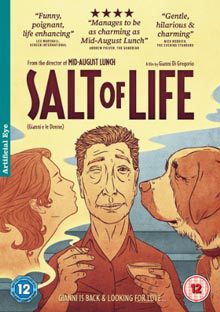 A conversation with Bonnie Hargrove, director of the USCB Center for the Arts, about the CFA's plans for showing more films this summer.
LCW:
School is out and summer is upon us. Will you continue to offer films this summer, or should we all just head for the beach?
BH: Actually, the summer months allow us to step up the number of films we can offer, since our live programming is greatly reduced until the fall. Consequently, we're excited to be kicking off June and half of July with thirteen new films that have never been – and would never be – available to our audience in Beaufort without our partnership with Emerging Pictures.
LCW: You've been showing about one film per week, so the plans for screening two a week represent a huge increase; are you confident that these films will be well received?
BH: Well, of course our audience interests and tastes vary a lot, but working with Emerging Pictures' staff in NYC, we think we have a nice blend… a diversity of films that are bound to appeal to many. We will have several documentaries: a "lost interview" with Steve Jobs; a film about the sea otter; and we even will have an award winner about sushi. In addition, we'll have comedies, as well as serious dramas, all proven to be interesting and entertaining in other metropolitan cities. By offering so many different films we hope to appeal to people's various interests, as well as offering folks the opportunity to develop new ones.
LCW: Could you list the titles, in case our readers would like to Google them in advance of your publicity?
BH: Sure, in the order of their screenings, they are: We Have a Pope, In Darkness, Boy, The Perfect Family, Steve Jobs, The Kid with a Bike, Quill, Jiro Dreams of Sushi, The Salt of Life, First Position, In the Family, Otter, and Pay Back… that takes us to July 13th…with more selected for the rest of July and all of August.
LCW: Now that you have been exhibiting films for over 9 months, are you changing anything as you go forward?
BH: Actually, we have been changing things as we go along.   First, we improved our sound system. Then we increased the number of films month by month as we built the audience, and this summer we will offer multiple films almost every week.
LCW: Any other changes?
BH: Yes, we recently completed a focus group round table to discuss what the community and audience members would like us to do differently. The result of the focus group indicated that starting films at 6:30pm, rather than our historical 7:00pm, would allow our audience to get home earlier and not make it difficult to get to the show on time. In addition, we will show some films at 4pm, which would allow our audience to eat dinner downtown after the show. Lastly, we will show some films more than once during a week, so that if somebody has a conflict, they'll have another opportunity to still see the film. This is particularly important with the type of films we exhibit, as if you miss it, there really is not a second chance to see it anywhere near Beaufort.
For a schedule of upcoming films and other events at USCB Center for the Arts, visit http://www.uscbcenterforthearts.com