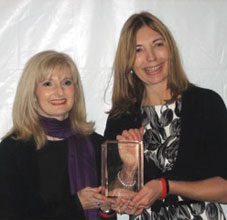 A conversation with award-winning BIFF screenwriter Margaret Ford Rogers
   Interview by Mark Shaffer
Throughout its first decade the Beaufort International Film Festival has built a dedicated following of fans and filmmakers – a family, if you will – who rarely, if ever, miss a chance to attend. Charleston based screenwriter, Margaret Ford Rogers, is a charter member of that family along with her friend and fellow writer, Marcia Chandler Rhea.
The two share the festival's very first screenwriting award handed out on a chilly February evening under a tent in Habersham. "I remember it was cold," says Rogers. "But we won and that was sweet."
            As BIFF gears up for its tenth anniversary, Rogers is back for what's become something of an annual tradition: kicking off the festival season with a shot at the screenwriting title. The competition's tough this year and there's more of it with eleven scripts making the cut, including one from her old partner, Marcia.
            2015 was a big year for Rogers with two scripts on the film festival circuit. She was a semi-finalist in Nashville and a finalist in Las Vegas, Oaxaca, and at the ninth BIFF. Her commissioned screenplay "Hell and Hallelujah!" (based on Shaytee Gadson's debut novel) took home the trophy at the Harlem International Film Festival. An experienced documentary filmmaker and photographer, she's in the early stages of developing a project with fellow BIFF alumnus, Ken Wyatt on an infamous episode in South Carolina's history. We spoke by phone from her home in Charleston.
(Above: Marcia Chandler Rhea and Margaret Ford Rogers at the first BIFF.)

           
            Mark Shaffer: I think the general public has a sort of romanticized idea of what a screenwriter does. The truth is screenwriting's a tough, highly competitive gig. Only a very small percentage of the biggest names in the business ever see their original scripts optioned much less produced.
            Margaret Ford Rogers: Absolutely. The best thing for me is to get options and commissioned work. With commissioned work you get paid whether it's produced or not.
Now, I've turned some commissioned work down because either the short story or the book doesn't have enough meat or I'm not interested enough in it. The truth is you just can't live off being a screenwriter unless you're in Hollywood and hit on something fantastic.
            MS: Or get really lucky.
            MFR: Right.
            MS: Do you have an ideal script, one that comes to mind as a model screenplay?
            MFR: Wow. You know, my problem is that I forget things so quickly after I see them. I know it's ancient, but I think Casablanca is still an incredible script.
            I like scripts that are very character driven, very dialogue driven. That's where I feel my strength is. I know there are great action scripts and great adventure scripts but…(laughs).
            MS: Once upon a time Witness was considered pretty much THE perfect screenplay by some and Robert Towne's Chinatown by others – it was like an East Coast/West Coast sort of thing. Both won Oscars and both are originals. We're just not seeing that much in this era of sequels and superheroes. Seen anything lately that stands out?
            MFR: I thought Trumbo was a good script, although a little slow.
            MS: And ironically based on the life of one of the greatest and most controversial screenwriters of all time.
            MFR: You know, I see about four movies a week and at the time I might think, "Oh my God, that was so great" while most of the time I'm tearing them apart. I just can't think of one at the moment. That's so pathetic.
            MS: I remember a friend showing me a piece of the second Pirates of the Caribbean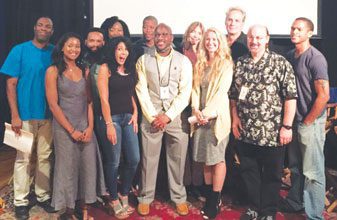 script just before this long, complicated action sequence that sort of sold the movie. The screenwriters set it up and simply write something like: "And now comes the greatest sword fight ever filmed!" (Both laugh) Have you ever hit a point in a script where you just got stuck on how to convey it?
            MFR: Not really, but it's because I don't do much action. I love words and I love the rhythm of speech and I love being able to define a character by how they speak and speak to each other. To me, that's the biggest drawback and failure of people writing scripts – dialogue. I mean that's what a script is all about unless you're doing something like Redford's lost at sea film, "All is Lost." I heard that was less than thirty pages of script.
            MS: I wouldn't be surprised. There's not a lot to say if you're adrift all alone.
            MFR: (Laughs) Right. I haven't seen "The Revenant" but I heard DiCaprio only has about four lines in the whole film. Is that true?
            (Both laugh)
            MS: It's a bit more than four, but not a lot more. I've got a feeling for a 2 1/2 hour film that might be a short script, as well. The cinematographer and the location ought to get equal billing with DiCaprio and Hardy: "And guest starring Tierra del Fuego as Montana."
            MFR: (Laughs) Yeah, I wouldn't even know how to create something like that. I'd be lost.
            MS: Well, Margaret, you just write something like, "And now we see the most gruesome bear attack ever filmed." It's easy.
            MFR: (Laughs). Right.
            MS: You started out as a documentary filmmaker. How did you get interested in screenwriting?
            MFR: Well, actually I started out writing. I was editor of my high school paper—
            MS: Me, too.
            MFR: And look where we are now!
            MS: Exactly! Two high school newspaper nerds and here we are. There's a lesson here somewhere, kids. And I think that lesson is "plastics."
            (Both laugh)
            MFR: I started out working as a nurse and I wrote some articles as a nurse. And then I wrote a bad book. There was an agent here who hooked me up with Deane Krogman. He was a screenwriter who'd moved here from Minneapolis and she thought that would be a good connection. And I learned the art of screenwriting from him. He was brilliant. And I fell in love with it. I fell in love with it because it was dialogue and speech patterns and rhythms and about moving a story through dialogue. I didn't have to spend a lot of time describing things, which I'm not very good at. I'm just not that visually oriented. Deane was great because he's very visual, so we had a good collaboration.
            From there things just kind of segued. I met a friend of Deane's, Mickie Turk, who was cinematographer. We wanted to go to Cuba. So we started querying magazines and we found a couple that gave us assignments. We did these articles and we fell in love with the visual beauty of the place and decided we'd do a documentary. After that I did a documentary on the veterans of the Cuban revolution. She didn't want to do it but her ex-husband did. And that's how I ended up in Cuba for about ten years making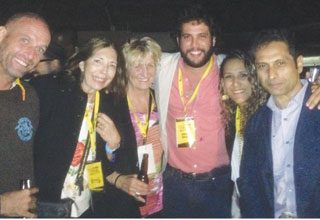 documentaries. It's very strange how it all came together.
            MS: Whether it's a documentary or a script you generally work with a partner.
            MFR: I usually do. I don't know why, I just kind of fall into it. I didn't with these last two, though, because they were commissioned. That made me feel good actually, because after a while you begin to think that maybe you're better off with a partner. But when I did these on my own it was like pow, pow, pow! It's been good.
            MS: Less committee work, right?
            MFR: Yeah, but also there's no one to say, "That stinks. Lose it."
            MS: What is it about a potential project that really catches your attention, what hits the nerve?
            MFR: It's usually story and character. [Award-winning documentarian and BIFF alumnus] Ken Wyatt and I have been talking. You know Ken, right?
            MS: Oh yeah. Ken's a very talented filmmaker and an all around great guy.
            MFR: We've been talking and we're going to do something on Stinney. It was a famous case; he was a young black kid—
            MS: **George Stinney?
            MFR: Yeah, that's it. So we've been thinking of doing something on him, on the justice system. He was definitely railroaded. I think he was executed right around D-day.
            MS: Ten days later. The Stinney case caused an international furor. He was this very slight, skinny 14 year-old child who went to the electric chair about the time the world was seeing newsreels of Hitler's death camps.
            MFR: It was tragic.
            MS: It's still considered one of the most infamous cases of its sort in American history – a fascinating subject for a documentary.
            MFR: It is fascinating and for me they have to resonate. There has to be some social relevance. I don't do comedy. That's not me.
            MS: You've conducted screenwriting projects at the high school level. I saw J.J. Abrams interviewed recently and he talked about how he mixed the sound for the new Star Wars movie for optimal viewing on an iPhone. Is there still an interest among the kids you work with to tell a story on the big screen?
            MFR: I think in every class you get kids who like to write and other kids who hate writing. The main thing I try to get across to them is to teach them to listen to how people communicate and speak. It's hard to teach the complicated nuts and bolts of screenwriting in such a short time, but getting them to focus on skills they can develop over time like listening, that I can do.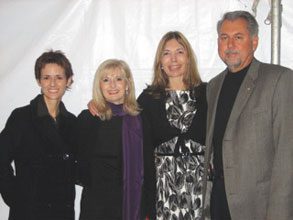 MS: We're coming up on the 10th Beaufort International Film Festival—
            FR: Yes! I'm so excited!
            MS: This is pretty special because you've been coming to BIFF since –
            MFR: The very first year when I won with Marcia.
            MS: It's fitting that both you and your pal and occasional writing partner Marcia Chandler Rhea both have scripts in competition. The two of you make it just about every year.
            MFR: We try to. You know, for me going to BIFF every year is like coming home for Christmas. The wonderful thing about BIFF is that people do come back. There's something about the spirit of that festival that [festival directors] Ron and Rebecca [Tucker] made. Again, it's like coming home for Christmas and seeing family for the first time in a long time. And people are nuts because Vanna White is coming! Everyone wants to see and touch her. It's great.
            MS: It's come a long way in a decade.
            MFR: I like that it's all so central, now – that it's all at USCB. It's so easy to mingle.
            MS: One of the things that make BIFF so special is the spotlight on the screenwriters with a live script read (Feb 11, 6:30 pm) with real actors.
            MFR: That's true. We're at a disadvantage. The filmmakers screen their films. No one sees our work. We're a pathetic lot, I think. And yet, it's true that there wouldn't be a project if there weren't a script. Unless you're doing something like The Revenant or with lots of big sword fights (laughs).
            MS: It reminds me of Tim Robbins' in The Player. He's this snarly studio executive and he's at a meeting and his rival basically says, who needs these pesky writers to make movies? And Robbins comes back with something like, "What an interesting concept to eliminate the writer from the artistic process. Now, if we could just get rid of these actors and directors, maybe we've got something."
            MFR: (Laughs) Exactly!
IF YOU'RE GOING
The 10th annual Beaufort International Film Festival runs February 10-13th. Advance purchases are recommended, as seating is limited. Purchase your tickets online at BeaufortFilmFestival.com or at the Beaufort Regional Chamber of Commerce Visitor Center in the Arsenal at 701 Craven Street, Beaufort.
Lowcountry Weekly and lowcountryweekly.com are proud media partners with BIFF. Watch for exclusive content, features, interviews and live coverage of the festival on lowcountryweekly.com and our social media.
Mark Shaffer's email is backyardtourist@gmail.com
 
**In 1944 George Stinney was a 14 year-old African American boy convicted of killing two young white girls in Alcolu, SC. Jury selection of 12 white men, trial and sentencing took less than a day. No appeal was ever filed. He was the youngest person executed in the United States in the 20th-century. The case caused an international furor. Stinney was posthumously exonerated in 2014.