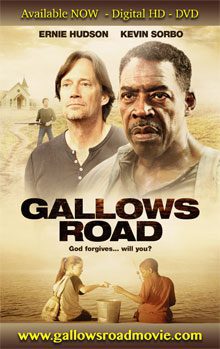 The 2015 feature film Gallows Road by Little Faith Pictures has roots in the Lowcountry. The movie scriptwriter is Sun City resident Grace McAdams along with her son, Bill McAdams, who also directed and starred in the drama. Bill McAdams has a supporting actor role as does his sister, Mary Jean Bentley, Gallows Road producer.
Bill McAdams, originally from Virginia, graduated from Catholic University as a double major in Drama and Philosophy. He was playing collegiate baseball when he got his first film experience in Major League II. He went on to double for Matt Damon in Francis Ford Coppola's The Rainmaker. This led to a four-year stint as Damon's photo-double on the Academy Award Winning film, Good Will Hunting & Rounders and Dogma. McAdams also doubled for Chris Evans on all Marvel's Captain America and Avengers films. His lengthy producer credits include working with Steven Spielberg on Lost Highway and Mulholland Drive. McAdams made his directorial debut in A Lure: Teen Fight Club. He wrote and directed the film, Money Shot. His baseball documentary Jose Conseco: The Truth Hurts, won Best Documentary at the Boston International Film Festival, Hot Springs Arkansas Documentary Film Festival and San Antonio's film Festival. Bill is currently in prep on The Untouchable, a true story and live-action feature about a prize-winning boxer from Argentina.
Mary Jean Bently has more than 25 years of experience in the entertainment industry as a producer, actress, songwriter and singer. Her acting career includes appearances in numerous national commercials and several major motion pictures – most recently, Gallows Road; The Secrets of Jonathan Sperry, starring Gavin MacLeod; Noah's Ark, The New Beginning starring Michael Keaton; Jason Lee and Marcia Gay Harden; The Last Castle starring James Gandolfini, Mark Ruffalo and Robert Redford, We Were Soldiers starring Mel Gibson, Sweet Home Alabama starring Reese Witherspoon and the Grand Jury winner at the Sundance Film Festival, Forty Shades of Blue starring Rip Torn. Currently, Mary Jean is the Founder and CEO of a Family & Faith Based Film Company, Little Faith Pictures which has numerous projects either in development, such as When The Last Leaf Falls adapted from a manuscript by New York Times Best Selling Author, James Michael Pratt of the Hallmark Hall of Fame's The Lost Valentine, viewed by over 14.5 million viewers. She resides in Fort Worth, Texas with her husband, Kevin, and her two children.
Gallows Road was released worldwide in August 2015. Set in the rustic backdrop of rural Texas, Gallows Road explores how tragedy, heartbreak and the choices that we make impact our lives and those around us in unimaginable ways. As a family man withdraws from the world to overcome his agonizing loss, another man struggles with the unbearable guilt of his role in the crime. Who will choose love over hate, forgiveness over revenge? And who will rise to the light… or face the walk down Gallows Road?
Bob Collins (Ernie Hudson) has it all: A loving wife, two children who adore him and a younger brother and business partner, Seth, (Marcus Mauldin). God is good to Bob and life is happy. Bob and Seth are just one day away from making their dream of opening an antique store come true. This is not just any antique store, but one previously owned by the sheriff's brother, who has two wayward sons, Snake and Matty. Trouble begins.
Jake Knight (Bill McAdams) is a man searching for a purpose, unsure of his role both as a husband and a father. He has a beautiful wife and two children yet he chooses to spend most of his time with the "brotherhood," Snake and Matty. This choice causes Jake to get off course and head down the wrong road. One of his only hopes and saving grace is his boss Frank (Kevin Sorbo) who is a good friend offering both steady work at the stables and spiritual advice. But more often than not, Jake's search seems to end at the bottom of a bottle.
In Gallows Road, an unthinkable crime will draw these men together, changing their lives forever – turning one from the light while speeding the other towards darkness. Frank, not knowing Jake's circumstances, tries to counsel him, while Snake, protected by his uncle, is determined to finish what he started.Things begin to change when innocence enters. Jake's daughter, Puck, and Seth's son, Bay, meet on a dirt road. They go fishing together and form an inseparable bond. Their friendship and God's protection become a force to reckon with as the tension escalates.
The film will be coming to The Bluffton Cinemark for a movie screening on Wednesday, November 25th 6-30-8:40pm. Meet- n- Greet Director and actor Bill McAdams. DVD's will be available for purchase. To purchase tickets: https://www.tugg.com/events/44614Movie
Trailer link:
http://youtu.be/D0Pv4iHnNbs
For additional information erin@swellnewmedia.com