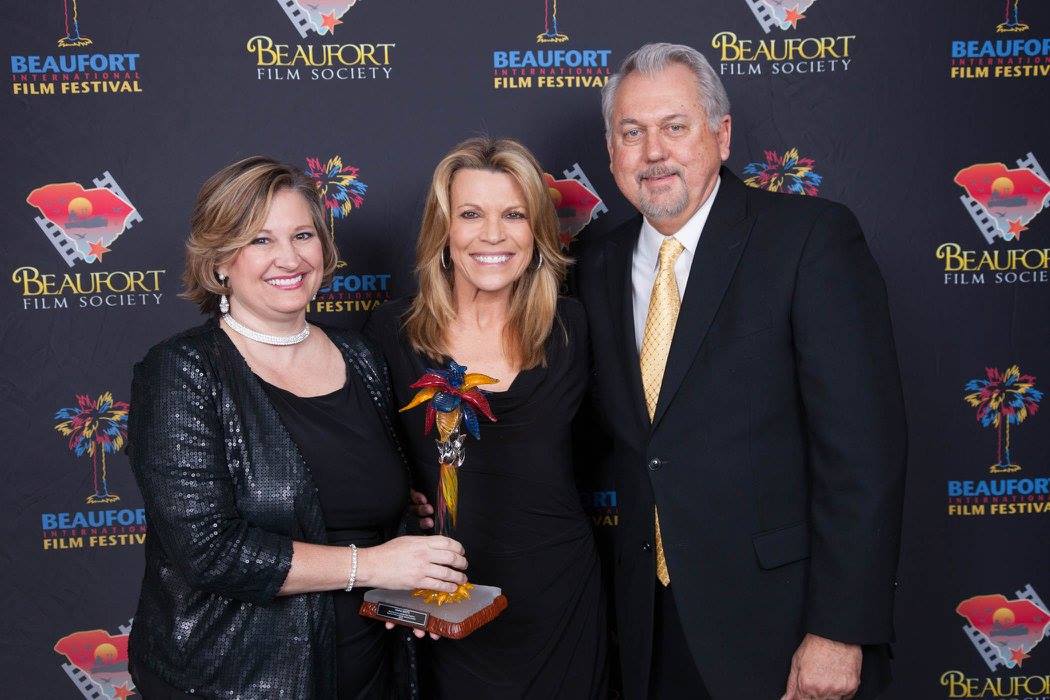 The 10th Annual Beaufort International Film Festival Raises The Bar – Again.

By Mark Shaffer

Every year about a month before the Beaufort International Film Festival kicks off fest director Ron Tucker begins to get nervous.
"I always worry no one will show up," said Tucker in a pre-BIFF interview last December. If the numbers rolling in from the just-wrapped 2016 event are any indication, festival runners Ron and Rebecca Tucker can breathe a whole lot easier going into year eleven. The 10th iteration of the "Little Film Festival that could" proved that it could indeed but that it's not so little anymore. In fact, one young filmmaker best described it as "truly epic."

SMALL TOWN, BIG CROWDS
The festival kicked off with a gala event Wednesday February 10th at the new Tabby Place in Beaufort and the records began falling soon after. The next three days of screenings set new high water marks for average attendance with just under 300 per screening. And Friday evening's feature film Interwoven (by local filmmakers VW Scheich and Uyen Le) raised the bar once again, setting a new house record of 473.
A decade ago the total attendance for the first festival amounted to about 500 people. This year an estimated overall number just shy of 12,500 movie lovers, filmmakers and actors packed into the USCB Center for the Arts during the four-day celebration, shattering last year's total by more than 2000.
North Myrtle Beach native and TV icon Vanna White (above, with Ron and Rebecca Tucker), headlined the list of special honorees. The glamorous co-host of the long running "Wheel of Fortune" received the Spirit & Pride of South Carolina Award. Ron Tucker says, "This award is presented annually to that person who is native to or a long-time resident of South Carolina whose body of work in the film, television, or music industries reflects positively on themselves and the Palmetto State."
Forner Army Chaplain, Capt. Justin D. Robe
rts, was presented with the prestigious Santini Patriot Spirit Award for his film No Greater Love. The documentary provided a helmet-cam point of view of soldiers in combat situations and the sacrifices made in war time. This is only the second time this award has been presented. The Patriot Award goes specifically to a filmmaker whose work honors American armed forces, veterans and their families. Roberts received his award from the only other recipient, Director/Producer Jonathan Flora who won in 2011 for his film Lt. Dan Band: For the Common Good. Flora took time out from his exhaustive schedule as a producer with Walt Disney Studios specifically to honor Roberts.
Each year BIFF honors the artists who work behind the scenes and rarely get noticed for their efforts. This year Sound Mixer Jonathan Gaynor (Forrest Gump, The Patriot) was presented the Behind the Scenes Award by Oscar winning Sound Designer Eugene Gearty.

In all festival judges saw more than 700 entries from 66 countries. And the winners are…
Best Feature: Keep In Touch, directed by Sam Kretchmar, New York, NY
Best Documentary: Daylight Come, directed by Evan Vetter, Wilmington, NC
Best Short Film: Pardon the Intrusion, directed by Louise Caruna Galizia, United Kingdom
Best Student Film: Danny Freud, directed by Madliene Rae Painter, University of North Carolina, School of the Arts, Winston-Salem, NC
Best Comedy: The Gunfighter, directed by Eric Kissack, Los Angeles, CA
Best Animation: Chiaroscuro, directed by Daniel Drummond, Sao Luis, Brazil
Best Screenplay: Attic Ashes, written by Lorraine Portman, St. Augustine, FL
Best Actress: Maritza Brikisak, Los Angeles, CA ( A Prayer for the Lonely)
Best Actor: Hoyt Richards, Los Angeles, CA (Intersection)
Best Director: Sam Kretchmar, New York, NY (Keep In Touch)
Audience Choice: Interwoven, Director VW Scheich, Producer Uyen Le, Beaufort, SC
For more information and interviews with the filmmakers visit beaufortfilmfestival.com. and beaufortfilmsociety.org and LowcountryWeekly.com