Once again, it's a wrap. The 11th annual Beaufort International Film Festival is in the books. What a party: five days, 40 films, dozens of filmmakers – actors, writers, producers, animators and editors. Legions of volunteers. And thousands of satisfied moviegoers. Each year event directors Ron and Rebecca Tucker (left) manage to raise the bar.
This year the bar may have been raised an extra notch or two. The 11th BIFF marked a long-sought milestone –
the first collaboration with the University of South Carolina Beaufort via the inaugural Film & Digital Media Symposium. On Saturday evening festival goers celebrated the 25th anniversary of the landmark film Daughters of the Dust (shot on St. Helena). A panel discussion followed the screening led by Gullah Geechee Corrider Commissioner, Victoria Smalls. The film's Writer/Director Julie Dash was honored with the inaugural Robert Smalls Merit & Achievement Award presented by Michael Boulware Moore, great, great grandson of Robert Smalls and President/CEO of the International African American Museum soon to break ground in Charleston.
The Tuckers also stretched the festival by a day, moving the awards ceremony to Sunday and freeing up a perfect sun-splashed day for the attendees to get out and experience the Lowcountry. The after-party at Breakwater Restaurant and Bar was a wonderful crush of fresh and familiar faces, old friends and new. The staff pulled off a Sisyphean task with a Herculean effort. In the end the last of us stood on the street savoring the final moments of this special thing that has come to mean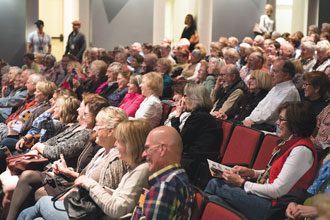 so much each year, exchanging hugs, cards, kisses, promises and plans. Each of us reluctant to call it a night, some of us too spent to go on, but every one already looking ahead to next year.
ETCETERA
Watch interviews with the filmmakers and more on the Beaufort International Film Festival Facebook page. Get more at www.BeaufortFilmFestival.com