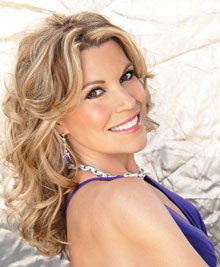 On the Occasion of BIFF #10

On Saturday, February 13th, Myrtle Beach native Vanna White will receive the Spirit & Pride of South Carolina Award at the 10th Annual Beaufort International Film Festival Awards Ceremony.
The award was conceived as a way to honor a native South Carolinian or current resident whose career in film, television or music has reflected positively on our state. The inaugural award was presented at BIFF 2015 to Gaffney native, actress Andie MacDowell. Festival organizers are thrilled to welcome this year's recipient, the multi-talented TV host, fashion icon, actress, and philanthropist known the world over as "Vanna."
Q) You're being honored with the coveted "Spirit and Pride of South Carolina Award" for reflecting so well on your home state. But how has your home state reflected on you? After all these years in Hollywood, what still sets you apart as a "Carolina girl"?
A) I believe growing up in a small town has kept me who I am. I grew up with values and I worked hard. I still look forward to going back home several times a year! I remain close friends with all those I grew up with.
        Q) Wheel of Fortune' just turned 40, and you've been co-hosting the show for 33 years. When you started out, did you ever imagine turning letters would turn into a long, illustrious career?
A)      A) No, I remember sitting in the makeup chair next to Pat Sajak when I first got the job and saying to him, "I wonder where we will be in 10 years?" Well, it's been 33 years and I still love my job!
         Q) You've been a fashion icon for decades, thanks to the beautiful clothes you wear on the show. Rumor has it you've never worn the same ensemble twice. How has your "look" morphed over the decades, what's your favorite color to wear on camera . . . and do you get to keep the occasional outfit?
A)     A) I have never worn the same dress twice and I've worn over 6,000 gowns! Over three decades the styles have changed so I've gone along with the changes. Remember the 80's and the big shoulder pads? I like to wear bright colors. Occasionally I do buy a dress or two from the designer.
Q)    Q) You're known for your love of crocheting and even have your own line of yarn. If I've never crocheted in my life, tell me why should I take it up?
A)     A) It's so much fun and so relaxing! I learned from my grandmother when I was five. I taught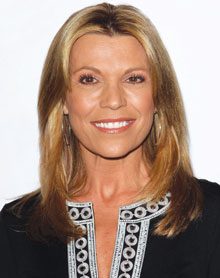 my daughter how to crochet too so we can continue passing it down generation after generation. It's not a lost art. So many people are doing needlework these days. Plus, you get to wear your favorite scarf or cuddle under an afghan. There's nothing like a handmade gift to make for yourself or give to a loved one.
Q)     Q) From the proceeds of the sale of your yarn "Vanna's Choice," you've donated over $1 million dollars to St. Jude Children's Research Hospital. Do you have a personal reason for choosing this particular charity?
A)     A) After touring the hospital in Memphis and seeing the amazing job they do for cancer patients as well as finding cures for many diseases, it was easy to choose St. Jude Children's Research Hospital. 100% goes to taking care of the patients and they do not turn anyone away.
Q)I   Q) I came of age in the 1980s, so I remember "Vannamania." You were bigger than the Beatles, and you're still a household name. What do you think is the secret of your widespread appeal?
A)     A) I do not know the answer to this question. I've always tried to be a good role model on TV and I've always been myself and not a phony person. My mother once told me that one day everyone would know me by "Vanna." I'm so thankful and grateful that they do. I do not take it for granted.
Q)     Q) In the era of a thousand channels, internet TV, and rapidly diversifying entertainment options, will there always be a place for the Game Show?
A)     A) I think so. Game shows are fun for the whole family unlike some the other shows on TV. Games never go out of style, right?
Q)     Q) Not counting 'Wheel of Fortune' . . . do you have a favorite game show?
A)      A) No
Q)      Q) The people of Beaufort are excited to roll out the red carpet for a South Carolina girl/pop culture icon they feel they've known forever. What do they NOT know about Vanna White that might surprise them? Name one thing…
A)      A) Although I seem to be very glamorous on camera, I am a blue jeans and no make up kind of girl off camera. I also go to bed early and wake up early. 
Q)      Q) Since you're coming to town for a film festival, I've gotta ask: What's your all-time favorite movie? And do you have an Oscar pick this?
A)      A) There are too many great movies to name one! I love Imitation of Life, Philomena, The Blind Side, An Affair to Remember, On Golden Pond, Selma, The King's Speech, The Intouchables. I haven't seen all this year's Oscar-nominated movies yet, so I can't tell you which one I like the best.
         Vanna White will receive the Spirit & Pride of South Carolina Award on Saturday, February 13th at the 10th Annual BIFF Awards, starting at 8 pm, with cocktails at 7 pm. For more information visit www.beaufortfilmfestival.com