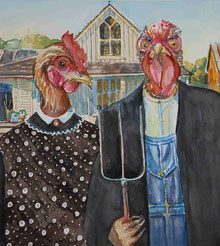 Master Artworks with a Twist
For only four days, Art League of Hilton Head will host a much-loved and anticipated alternate artistic reality—one in which Monet's Lady on a Hill wears sunglasses, a Van Gogh countryside features a very modern putting green, and Whistler's Mother sits in dour silence, enjoying a cocktail.
Fabulous Fakes is a four-day exhibit that has some fun with the old masters. These artworks are parodies that replicate the works of the masters almost stroke for stroke, but with one—often humorous or whimsical—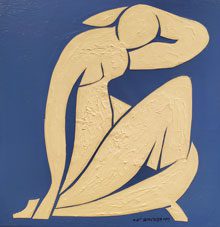 twist. 
"This exhibit is a chance to have some fun," says Kristen McIntosh, Gallery manager. "Artists don't always have to take their work so seriously, although it is a challenge to duplicate the works of the masters. The skill required to create some of these replicas is astonishing."
All artworks are for sale via a silent auction. Bids can be placed in person at the gallery or online through our website www.artleaguehhi.org.
Fabulous Fakes will be held July 28-31, 10am-4pm, at Art League Gallery. The silent auction will end at 4pm on July 31, and the winners will be announced via Facebook Live. The exhibit is free and open to the public. 
Art League Gallery is located mid-island inside Arts Center of Coastal Carolina, 14 Shelter Cove Lane, Hilton Head Island, 843-681-5060. 
Above: 'Poultry Gothic' by Jan Ross and Matisse's 'Blue Nude' by Joan McKeever