A new book captures the essence of an old Lowcountry tradition.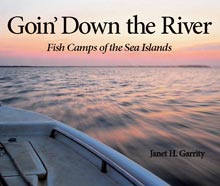 "Scattered around the South Carolina Sea Islands are camps that have become very special places to generations of families and friends in the Lowcountry. These camps are referred to as fish camps. Full of character and fairly remote, the camps are accessible only by water and, therefore, exclusive (as well as reclusive, if need be). These camps have been witness to so many life experiences and lessons that you can almost hear the memories whispering to you as you step from the boat to the dock…"
Thus begins Janet Garrity's beautiful new book,
Goin' Down the River: Fish Camps of the Sea Islands,
128 pages of stories, history and photos that capture the essence of an old Lowcountry tradition still quietly flourishing today.
Garrity, who was raised in upstate New York and moved from Ithaca to Beaufort with her h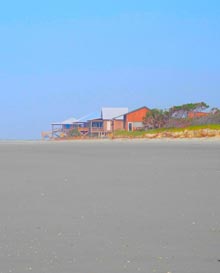 usband in 2008, says the Sea Island fish camps, though new to her, were in some ways very familiar.
"My grandfather bought a cabin in the Adirondack Mountains in 1939," she says. "The guys would use it for hunting and fishing in the fall and winter. The rest of us would go in the summer and just run around for weeks in bare feet and bathing suits. It was wonderful! These fish camps have the same spirit."
Garrity has dedicated the book to her friend, photographer Alex Spencer, who first conceived of the project. Soon after they met, Spencer was diagnosed with colon cancer. Garrity accompanied him on a couple of fish camp photo shoots while he was undergoing treatment, and became intrigued with the subject matter. Soon, Spencer was unable to work anymore, and in April of last year, he passed away.
"Before Alex died, I got
it into my head that I was going to finish this book," says Garrity. "He inspired me. I'd always been an amateur photographer. Just did it for love. I'd give photographs as Christmas presents, that sort of thing… But Alex gave me the courage to really put my work out there."
But "putting it out there" was easier said than done. Unfamiliar with the Lowcountry marshes and snaking, convoluted waterways, Garrity needed a guide. "I needed somebody who wouldn't let me die out there," she laughs.
She found just what she was looking for in the person of one Gibbes McDowell.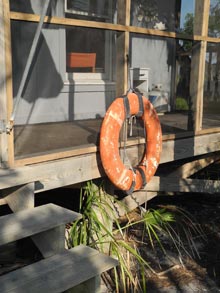 "I'd gone to see the movie "Sea Island Secrets" at the Beaufort International Film Festival, thinking I might learn something for the book. When it was over, one of the filmmakers got up to speak. It was Gibbes McDowell. I didn't meet him that night, but it occurred to me later that he might make the perfect guide. So I wrote him a letter, and he liked the idea. As it turns out… he owns a fish camp!"
But don't ask her to tell you where it is. Garrity had to promise all the fish camp owners – there are eight or nine in the book – ­that their camp locations would remain top secret. Remoteness and exclusivity are part of the fish camp mystique. You can only get there by water… and by invitation.
And the getting there can be a little… dicey.
"The first time I stepped out of the boat into pluff mud, I almost fell flat on my face, camera in hand. Gibbes reached over, grabbed my arm, and said, 'Don't move. Do not MOVE.' It had sucked my boot right off! The next time out, we're hiking through the pluff mud – I'm now wearing sneakers, which can't be sucked off – and there are mosquitoes everywhere, and Gibbes says, 'If you hear grunting noises, turn around and run like hell.' 'Alligators?' I ask. 'Yep.'" Fortunately, this advice never got put to use.
Most of the photographs in "Goin' Down The River" were taken by Garrity, but there are some vintage photos scattered throughout the book, as well. Long-time locals like Nancy Ricker Rhett and Marjorie Fordham Trask supplied old family pictures, along with some charming stories. There are wonderful quotes from native Beaufortonians like John Trask and Henry Chambers, and Dr. Lawrence Rowland supplied the historical background.
Beaufort native and author Roger Pinckney says of the book, "Coming up, this was my world, these sunny windswept islands teetering on the edge of America and the ramshackle creekbank fishcamps, where boys learned how to be men, and men learned how to be boys all over again. Janet Garrity gets it and she gets it right. Better than right, she gets it perfect."
Designed and published by Lydia Inglett, "Goin' Down the River" is available at select outlets throughout Beaufort County, and by visiting www.garrity.com
Upcoming Book Signings for Janet Garrity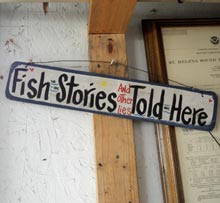 Fri, Sept. 28 – Noon to 3pm – Mags, Mugs & More at Fordham Market, 701 Bay Street, Beaufort. (843) 524-3161 or garrity.com.
Sat, Sept. 29 –Noon to 3pm –McIntosh Book Shoppe, 917 Bay Street, Beaufort, SC.
Sat, Oct. 6 – Noon to 3pm – McIntosh Book Shoppe, a second book signing during Beaufort's famous Shrimp Festival.
Sat, Oct 20 – Noon to 3pm – Nuances on Paris Avenue in Port Royal, at the very end of Paris Avenue, across from the Port Royal Town Hall.